Giving Back: Green Eggs & Chocolate
September 23rd, 2010
Only two left! Once a week this summer, The Causemopolitan has featured a guest post that will inspire you right up out of your seat to get involved and give back in a special series called Cause It's Summer. Featured bloggers will be sharing their own reflections and stories, tips and resources, and perspective on philanthropy, social entrepreneurship and their own cause-filled life. This week welcome Andrew Seely, creator and host of the chocolate web show, Melts In Your Pocket. Andrew knows all there is to know about chocolate and shares some of the greenest chocolate companies he knows. Chocolate to make the world a better place, that's something I can take a bit out of!
---
Maybe not so much the eggs part, but put green and chocolate together and you really have something.  While I have run into actually green colored chocolate, there's a Lotsa Matcha White Chocolate Bar from William Dean Chocolates (which I tasted when I was a tasting judge for the San Francisco International Chocolate Salon), it's not so unusual for chocolate companies these days to be thinking about the environment and chocolate.
In many ways the chocolatiers who are making chocolate, not only care about finding the perfect cacao beans to eventually turn into mouthwatering treats, but they also care deeply about doing so in an environmentally conscious way.  The ideas of sustainability and organics have become just as important as making sure there is a perfect balance between sugar and cacao.
Sloane was a guest on my web show Melts In Your Pocket a while back and she brought with her a Green & Blacks 85% dark chocolate bar, for the reason that it is a certified organic chocolate bar. You can watch her episode here and the second part here.
More and more chocolate companies are turning to organically sourced materials such as Dagoba Chocolates, who are embedding such values into their businesses, on top of being really great tasting chocolate.
One company who I think stands heads and above in not only making wonderful chocolate but also has an amazing attitude towards how they source their chocolate and how they give back to the communities from which they get their chocolate is TCHO.
TCHO (pronounced ch-oh), is a San Francisco based company that is best described as a tech startup that happens to make chocolate.  I got the opportunity to visit their factory and sit down with their CCO (chief chocolate officer) and Co-Founder Timothy Childs.  You can watch my interview with him here (and above). One of the things that we got to talk about was TCHO's Source Program.
TCHO's Source Program is more than meets the eye.  Not only is the program focused on being very selective about where their cacao beans come from and how much they pay the farmers for their products.  The program goes one further and is about giving back to the communities they purchase from.
Not just giving back money or water wells or clothes, but knowledge.  Knowledge about the entire chocolate making process, essentially giving farmers the tools and skills to take their product (the beans) and go fully from bean to chocolate.  Talk about full circle sustainability.
How amazing would it be to see chocolate grown, sourced and produced all by the same people around the world?  Not only would they be making loads more money but there would be a direct connection between ingredients and final products.  In a global economy it's rare that we see such a turn around investment from a company to the people who provide the staples of their business. Essentially TCHO is almost creating its own competition, by giving away the tools and resources to those very people who make up the backbone of their own business.  As far as I know there is not yet chocolate available from the sources TCHO chooses to reinvest in, but I hope for the day when I can taste some of that chocolate. As a cherry on top, TCHO has gone on the record as being anti-slavery as a part of their mission when making chocolate. 
If you have the chance to pick up some TCHO chocolate in the near future not only will you be able to taste, what is in my opinion some of the best chocolate that I have ever put in my mouth, you can also know that by doing so you are involved in something much larger. Next time you are in San Francisco, stop by pier 17 and grab some for yourself.  If you can't visit them in person make sure you visit their website and learn more about how their chocolate is made and the very particular way they coach flavors and subtleties out of beans to create their diverse line of chocolate.
As for those of you who are in positions to make a difference in the world, now is a great time to start thinking about how either yourself or your company can not only think organically and sustainably, but also think about how you can create environments that allow for the exchange of not only goods and services but also knowledge and empowerment.  Create your own competition.  Give back by giving away what is most precious.  Change the world.  Even if it's one bean at a time.
Thanks for allowing me to share how one simple chocolate company is doing good in our world. As much as I enjoy being able to taste chocolate from around the country and around the world, I enjoy knowing that in everything we do we can make a change.  Even if that's tasting chocolate on the internet. My final thought to you will be a challenge, be a changing force in the world, you can even eat some chocolate along the way.  Just remember to savor each piece and share some with others.
---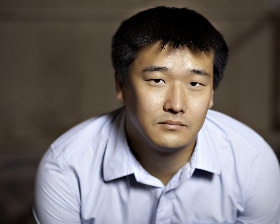 Andrew Seely is the creator and host of Melts In Your Pocket, a chocolate bar review show that is a part of Next New Networks. Look for season 2 of his show to start airing soon on the Hungry Nation channel. When he's not tasting delicious chocolate bars, he's busy being a part of the Los Angeles community of online content creators and various webshows.  You can follow him on twitter: @andrewseely and on his personal blog.
If you would like to contact him about acting/hosting/producing/editing or anything else his email is andrewseely@gmail.com.
Read more ...
Kiss and Make Up
Women's Philanthropy Institute's Newest Council Member!
My Women's Equality Party Vote Is Dedicated To…
Road To 50
You're Invited! ASPCA Young Friends Benefit
... and more posts from the archives