Wanted: Your Good Ideas For The Gulf
July 9th, 2010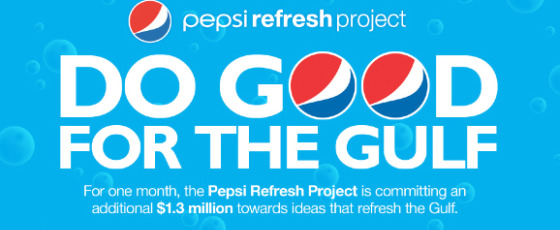 Pepsi Refresh Everything Hits The Gulf! There is something very special happening on Monday and I encourage you to participate. **The Pepsi Refresh Project is coming to the Gulf. ** It's called "Pepsi Refresh Project: Do Good for the Gulf," and will award ideas that America likes the most to the tune of $1.3 million in grants.
On Monday (July 12th), RefreshEverything.com will open up for Gulf-specific submissions and stay open all week or until 1,000 submissions are received. Submit projects that "make a positive impact on communities that have been most directly affected by the recent oil spill in the Gulf of Mexico." In other words: share your projects that will help out our city, neighborhoods and communities. (Editor's  note: It doesn't include environmental cleanup or wildlife recovery.)
They want our ideas. They want you to be creative and thoughtful and inventive. Submissions are open to anyone around the country; the impact must be within oil spill-impacted areas. You can be a nonprofit, small business an entrepreneur, a student, or an artist. Basically, I'm saying this is open to everyone and this means YOU! I know I'm thinking about what I can submit that would make a positive impact, something to follow up on the success of Gulf Coast Benefits that last week raised over $50,000 for the Gulf Restoration Network.
Voting will begin on August 2, finalists will be announced on September 2, and grantees will be announced on September 22nd. Full details on how to enter your ideas can be found here. Go get em' changemakers!
Your cheerleader in change, Sloane
Edited from an original post published on July 9, 2010 as a NOLAlicious special edition called "Pepsi Refresh Everything Special Edition." For more information on NOLAlicious or to sign up for the weekly e-newsletter, visit our website NOLAlicious.com.
Read more ...
Kiss and Make Up
Women's Philanthropy Institute's Newest Council Member!
My Women's Equality Party Vote Is Dedicated To…
Road To 50
You're Invited! ASPCA Young Friends Benefit
... and more posts from the archives