Vote for CNN Hero of the Year
November 19th, 2009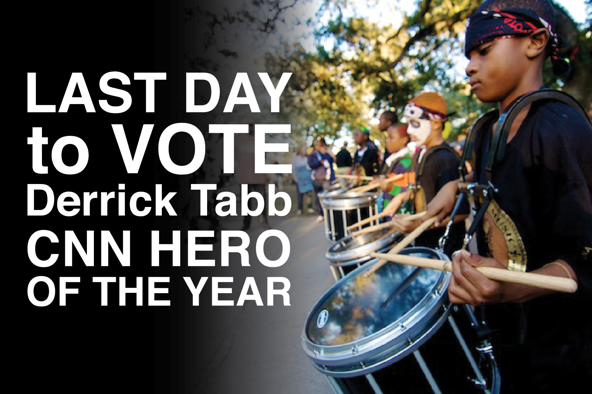 Roots of Music are marching forth to help their teacher, Derrick Tabb, become the next CNN Hero of the Year! Vote NOW, voting closes 6AM so do it NOW!
A native New Orleanian and snare drummer for popular Rebirth Brass Band, Derrick Tabb and friend, Alison Rheinheart, created New Orleans' only non-profit music program that provides free instruments, music education, supplementary tutoring, hot meals and transportation to more than 100 at-risk youth.
I was fortunate enough to meet them both this past spring when I was in New Orleans and volunteer for Roots of Music. I've been a big fan ever since and am really excited to see this incredibly organization getting the national recognition it deserves.
The Roots of Music program instills structure and discipline in its program participants, 85 percent of which have seen grade increases of at least one letter grade in at least one class. To date, the Roots of Music program has more than 400 children waiting to join the program.
"The students of the Root of Music have been working incredibly hard to help their mentor win," says Allison Reinhardt, Co-Founder and Program Director of the Roots of Music. "Over the past few weeks, they have been going out to music venues, conferences, local colleges, and coffee shops all over the city, handing out flyers and asking people to vote for Derrick."
"Voting for Derrick is really voting for the kids of the Roots of Music," says Reinhardt. "I see it in their eyes everyday; these kids are the real heroes." ** Voting ends at 6:00 a.m. EST, November 19. Selected as a finalist out of more than 9,000 nominees, Derrick Tabb and the Roots of Music program could win a much-needed $100,000 if he wins the prestigious CNN Hero of the Year award. Find out on Thanksgiving, 9 pm EST, if Derrick will become the next CNN Hero of the Year. ** For more information: Learn more about Roots of Music including how they will spend the $100,000. See photos from their performance at Voodoo Fest 2009
If you liked this post, you might like: My Love Letter To New Orleans It's Not All Puppies and Babies in New Orleans On Recycling
Read more ...
Kiss and Make Up
Women's Philanthropy Institute's Newest Council Member!
My Women's Equality Party Vote Is Dedicated To…
Road To 50
You're Invited! ASPCA Young Friends Benefit
... and more posts from the archives