The Mother's Day Gift That Keeps On Giving
May 7th, 2010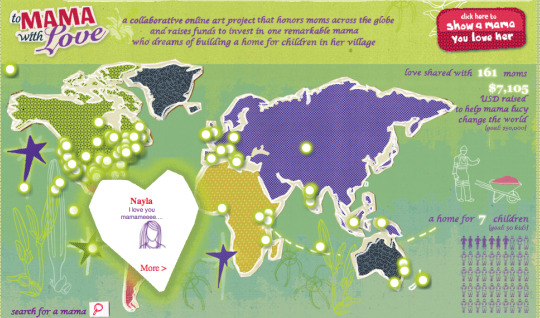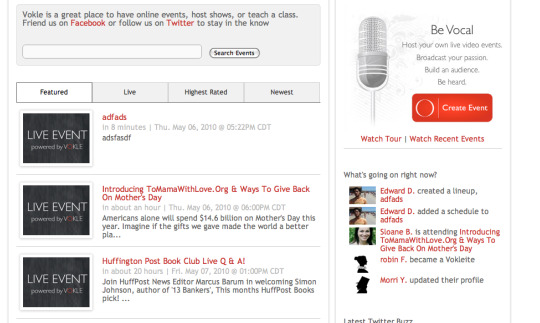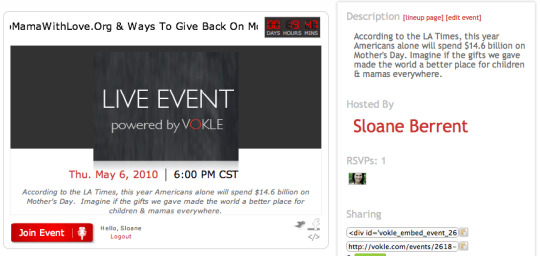 Thank you to everyone who tuned into last night's Vokle live chat with Stacey Monk, Jen Consalvo and Susan McPherson to talk about To Mama With Love, Epic Change and nonprofit fundraising online. From my post yesterday, Give Your Mom The Gift Of Giving Back: ToMamaWithLove.Org I heard so much from people how much they loved this campaign, which was also apparent last night. The chat made the homepage of Vokle and we had a robust conversation not only about this campaign and others we had been a part of, but the larger issues at hand within social media around fundraising and doing good.
I wanted to give a list of tweets that have been sent out with #ToMamaWithLove to show the support the campaign has been getting. If you haven't yet, please make a donation to YOUR mom, build a heartspace (I DID), and retweet one of the messages below.
To all those mom's out there, thank you.
RT @romioliverio Txs! Saving it for mother's day present. Moved to tears by this massive wave of love #ToMamaWithLove is creating.
RT @momsdaily: mothers day is right around the corner, do something special for your mom, http://bit.ly/cLUqYh #tomamawithlove
RT @josephdee: There's a new movement. Love. We'll complete what the peace movement started. Awesome: www.ToMamaWithLove.org
ToMamaWithLove
RT @eunice_gerald: I love my mom because she love me. #Tomamawithlove. (one of the twitterkids of tz)
RT @phineas_peter: Happy Mothers Day @MamaLucy#ToMamaWithLove (one of the twitterkids of tz)
RT @christuttle: I luv my Mama b/c she'd luv this tweet raised $ for good! Share your love & tweet to help: www.ToMamaWithLove.org
RT @LisaSaline: i luv my Mama b/c she has the biggest ears and softest shoulders around. Happy mother's day: #ToMamaWithLove
RT @christuttle: See How Much I Love My Mama! Enough To Change The World #tomamawithlove http://www.tomamawithlove.org/heartspaces/2241
RT @ehon: Finally created a heartspace for my mum this Mother's Day. http://ht.ly/1I8xc #ToMamaWithLove
RT @1800flowers: We luv all Mamas b/c they're always there for us! Share your love this Mother's Day: www.ToMamaWithLove.org
ToMamaWithLove
RT @BonnieKoenig: For Mother's Day to honor your mother & mothers everywhere go NOW to www.ToMamaWithLove.org via @StaceyMonk & @EpicChange
RT @dougsky: Great thoughts on #ToMamaWithLove webcast tonight @Ehon. You never, ever cease to inspire me and take my brain to new places.
RT @Alucas9: 5 Mother's Day Gifts We Spend Billions On http://bit.ly/dotjKz
tomamawithlove www.tomamawithlove.org
Read more ...
Kiss and Make Up
Women's Philanthropy Institute's Newest Council Member!
My Women's Equality Party Vote Is Dedicated To…
Road To 50
You're Invited! ASPCA Young Friends Benefit
... and more posts from the archives