March 25th, 2009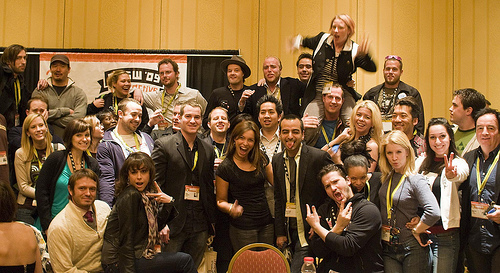 I've recently returned from a rad, insane 9 days in Austin, TX for SXSW 2009. It was my second year, and without a doubt it's one of the best weeks of my year, but I'm going to be so bold as to say that this week was one of the best of my life. Big statement, I know.
But here's why.
I saw friends I love, ran into people I wanted to get to know better, found online friends I had connected with and always wanted to meet in person and best of all, met random people that became some of my favorite people instantly. You all know who you are. Thank you, you rock. My life is better for having the blissful joy of knowing you.
I went to two screenings this year, I Love You Man (thank you Paramount) and Adventureland (thank you Miramax Films.) I went to panels, keynotes, happy hours and parties during Interactive (and spent lots of time in the bloggers lounge) and then went to see 48 bands in 4 days during music at over 15 venues. (Full post on music coming up next).
I was stimulated beyond compare, by the people I met and the places I went. I was inspired and constantly motivated to see more, more, more.
I ran into people I knew at almost every turn. Walking down the hallway or street and seeing familiar faces in a city where none of us live is WILD and insane and awesome. My favorite conversations where the ones that happened walking from one panel to another, down the street to a new venue, from one band to another, or sitting on the back porch of the house I stayed in on rocking chairs and talking about life. I ended up in crazy places I wouldn't have dreamed of, and was reminded again and again the power of asking, of trying and of pushing the status quo to get where and what you want. It was crazy to me how my body could possibly keep going when I had long since lost the minimal sleep required to be a functioning human being. And yet I kept going fueled by, yes friends, but also lots of street food and endless amount of liquids - mostly beer and whiskey and the occasional water and coffee.
I hit a wall once on the last day. It wasn't pretty. To break through I stood front row of a band and felt like a vampire sucking their energy and vibe and using it as fuel to keep going. Miraculously it worked. It reminded me that we can find energy anywhere to push through walls, to push through obstacles. There is nothing we can't do - and if at some point a line was too long, a panel was full - then every.single.time the next place I ended up was better than where I wanted to go in the first place.
I had faith in the universe that everything was going to happen just as it should, a strong support network of friends to check in with about the best places to be or where to go next, and a positive attitude.
The biggest and only real #fail was the AT&T network. As one friend said, "Iphones broke SXSW."
At the end of it, driving out of Austin and onto the next location (again another blog post on its way), I was deeply, profoundly sad in a bittersweet way. The sweetness comes from having the opportunity to attend SXSW and to not take a moment for granted and to live live live as much as possible every day, but the sadness. The sadness was "end of summercamp will you sign my t-shirt sad." It was long hugs goodbye, keep in touch and reunion promises and best of all preparation for SXSW 2010 to be BIGGER and BETTER.
Life just doesn't really get much better than those 9 days in Austin each year when your mind is blown, your heart is full and your feet ache from exploration.
From the bottom of my heart, I miss you all already.
*photo courtesy of JD Lasica.
Read more ...
Kiss and Make Up
Women's Philanthropy Institute's Newest Council Member!
My Women's Equality Party Vote Is Dedicated To…
Road To 50
You're Invited! ASPCA Young Friends Benefit
... and more posts from the archives