Six Months and Counting, Part 1...
August 20th, 2009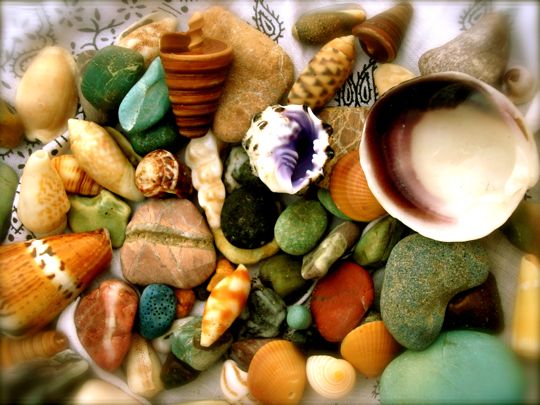 Six months ago today I wrote my first blog post on The Causemopolitan. It's hard to believe how much life has changed in six months. I have never really reflected here on why I started The Causemopolitan and what is has meant to me these past six months and then what I have in store for the next six months, so I wanted to take the opportunity to do that now.
When I reflect upon The Causemopolitan, there are seven areas I'd like to dive deeper into:
Today's post, The Why.
Reflections. How this blog has helped shape the last six months.
A list of my favorite posts from the past six months.
Analytics and specifics. What I've learned, what I need to focus on.
Lessons learned from starting a blog.
Acknowledgments and inspiration. Who's helped me out and what blogs I read and am inspired by.
The future of The Causemopolitan and what I'd like to do with the next six months.
I've often heard we spend more time planning a vacation than we do our futures and so I wanted to really take some time to think about how The Causemopolitan has grown the last six months and where I'm headed. I'm traveling and more inaccessible than usual (which is saying a lot) and so these posts might not be up until I'm up and connected. But I will prioritize each of them.
I hope you enjoy this little window in the history of The Causemopolitan.
**Why The Causemopolitan? **I first blogged on LAist back in November 2005 with a post called Brewing Up A Weekend of Art. That's a long time ago. I had been in Los Angeles one year and wanted to write about all the cool places I went and I read LAist every day and wanted to contribute. That was my first time ever blogging and I loved it. I loved going someplace and then writing something up about it to share with the other people who lived in the same city as me.
My life changed. I started getting comped tickets to music shows and entrance to art opening and soft launches of restaurants and it was a lot of fun. It wasn't paid (really isn't it rare when blogging is!) but it was paid with the free and comped items I got and considering I went to about 3 live music shows a week, a museum or gallery on the weekends and endless other activities, I would say LAist saved me thousands of dollars. I became the Lifestyle Editor. LAist had monthly BBQs for all the bloggers and editors, many of them became my good friends. Many of them I'm still in contact with. **The blogger for LAist are the most top caliber creative, intelligent, smart, snarky, politically engaged, socially conscious, environmental, community-driven, finger on the pulse with all things Los Angeles people I've ever met or had the privilege to work along side of. **
I remember a tipping point was when I was at a new bar in downtown LA that I had recently reviewed the opening for (when the downtown scene was just picking up) and these guys were talking about how they heard about the place and one of them said "On LAist, I read it every day." My head whipped around. It was awesome to hear people talk about LAist and really it IS the best source of information for things happening in Los Angeles. It was then, it is now.
LA seemed more of a home to me because of LAist. I had a community of people that were my friends and peers. I challenged myself to see new neighborhoods and get out and check out different farmer's markets, different types of food, things I might not have seen were it not for an email from someone at LAist saying, "Hey, check this out!"
One of my (now) really good friends was an LAist groupie, when I met her she at a friend's party, she was like "Oh my god, I read LAist every day, what are the last few things you've blogged about?" It was touching (creepy but touching!) and of course now, years later, we're good friends and she still reads LAist religiously.
I realized a few things from that experience. I had a voice and I had an eye for finding new spots to go to in LA and I was willing to sit down and write about them. That was a valuable lesson. Honestly, I'd still write for LAist every day if I could, if I had the time. The only reason I stopped was the time. My last job ate up my whole life and I didn't have time to write at all. So for most of 2008, I wasn't writing or blogging, I was straight to the bone working.
And I missed it. I missed the outlet. I missed the connection to people with my writing.
I do miss writing about a specific place, like Los Angeles, but I also really wanted an outlet that was my own and for my own voice. I place I could be personal and control the content and it would just be mine. I read on a lot of blogs that people started them to make money and be able to quit their job. Or they start a blog to create a voice online and brand themselves into a certain field to make a job transition. Or they study blogs and then start one in a similar vein and have a specific focus and drive.
I didn't really do it for any of those reasons. I started The Causemopolitan to simply share with whoever wanted to listen things that were important to me.
When I came up with the name The Causemopolitan, I was thinking about other blogs out there The Superficial and The Satorialist and I liked having "THE" at the front, it made it stand out to me. I wanted to write about philanthropy and what it means to me and all about events in the social action space.
Well I haven't exactly done that all the time. But I haven't stressed about it either. I've had fun again with writing. Just writing what I want to do and putting it out there. And I've gotten an incredible response from people.
I have learned from LAist how to grow traffic and build a successful blog, and I've worked at a startup where we had to know a lot about analytics and traffic sources and how to build an audience. I know how to do those things, but for the most part, I've just let the last six months be an opportunity to play and have fun and connect with my blog and hopefully along the way attract some readers.
I'll get into all of this more with my follow up posts on reflections and lessons learned. But this was my window to you (and for posterity!) about my history with blogging and I have to say, I'm blown away by what having this little spot on the Internets has done to my life. Really truly amazed. Thank you to everyone reading this for being part of that journey.
Enough of the gushing! Back to your regularly scheduled programming.
In the words of the Beatles: "Cause the world is round it turns me on…" Sloane
Read more ...
Kiss and Make Up
Women's Philanthropy Institute's Newest Council Member!
My Women's Equality Party Vote Is Dedicated To…
Road To 50
You're Invited! ASPCA Young Friends Benefit
... and more posts from the archives