Shelley Cohen's Birthday Wish and Paying It Forward
January 23rd, 2010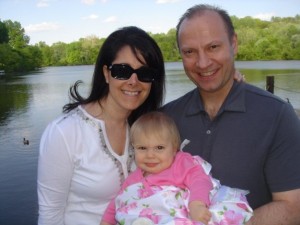 Where do I start with Shelley Cohen?
Let's see. I could talk about how I was completely enamored with her from the first time we met, in Washington DC through her longtime friend Melissa Fitzgerald and how the three of us talked into the night about Africa, Uganda, helping children there and the nonprofit the two founded, Voices of Uganda. I could mention that when I said I was going for the first time to the Democratic National Convention in Denver in 2008 that Shelley was quick on the forward button, sharing invites and insider information to help guide me through the madness and overwhelming sensation that the DNC holds. But I think if I had to choose, I would talk about Shelley's deep commitment to her family and instilling a sense of service to her daughter and a sincere desire to make the world a better place. A longtime resident of Washington DC, Shelley is active on nonprofit boards including the National Wildlife Federation and works for a green sustainable energy company, Ameresco. A huge thank you to Shelley for this interview. It's one of my favorites.
And of course, the birthday wish interviews have been running daily for two weeks. Huge thank you to all who participated. I have a few more to post next week and the BIG news is I also have a delivery date for my own Cause It's My Birthday campaign for malaria nets in Ghana. So stay tuned, much more in the birthday sphere to come. Plus actionable tips to do a birthday fundraiser of your own!
The Shelley Cohen Birthday Wish Interview:
1) Tell me about your birthday and fundraising campaign. When was your birthday? Was it a milestone? What was your inspiration? What nonprofit did you partner with? Did you tell them in advance? What was your fundraising goal (if you had one) and did you reach it?
FOR MY 40TH BIRTHDAY (MARCH 2, 2008), I HAD A HUGE PARTY AT A LOCAL HOTEL CALLED 15 RIA. IN LIEU OF GIFTS, I ASKED PEOPLE TO DONATE TO VOICES OF UGANDA. I PUBLICIZED IT VERY WELL AS PART OF THE EVITE, AND INCLUDED LINKS. I WAS NOT ON FB AT THIS TIME. I DID NOT HAVE A FUNDRAISING GOAL, BUT I PROMISED TO MATCH WHAT WAS RAISED. THE PARTY RAISED ABOUT $1000, AND I MATCHED IT!
FOR MY DAUGHTER SIENNA'S FIRST BIRTHDAY ON MAY 29, 2009, WE ASKED THAT PEOPLE BRING FOOD ITEMS FOR THE DC CENTRAL KITCHEN IN LIEU OF FOOD ITEMS. WE COLLECTED 5 HUGE BOXES FULL OF FOOD!
2) Did you use online tools? Did you have a birthday party in person? What was your way to connect with people and tell them about this?
FOR THE 40TH BIRTHDAY, I JUST USED CONSTANT CONTACT (I SENT MY INVITE SEPARATELY)! NOT ON FACEBOOK THEN. FOR SIENNA'S BIRTHDAY, I USED EVITE.
3) What have you done for past birthdays?
HADN'T DONE SPECIFIC FUNDRAISERS FOR BIRTHDAYS BEFORE.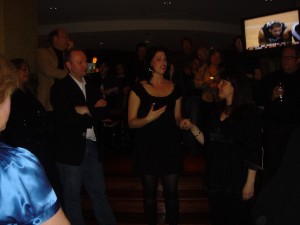 **4) Would you do a fundraiser for your birthday again? Was it easier or harder than you thought it would be? **
ABSOLUTELY. IT IS SO EASY TO DO SOMETHING LIKE THIS. I REALLY WANT TO INSTILL IN SIENNA A SENSE OF GIVING TO OTHERS. I PLAN ON DOING FUNDRAISER EVENTS FOR ALL OF HER BIRTHDAY'S (SHE GETS ENOUGH GIFTS FROM THE GRANDPARENTS/PARENTS). I ATTACHED SOME PICTURES OF ME AND SIENNA WITH THE FOOD DONATIONS AND DROPPING OFF THE FOOD AT THE DC CENTRAL KITCHEN (MY FRIEND AIMEE HELPED US. I TRY TOO HAVE A SOCIAL COMPONENT TO ALL MY PARTIES!
ONE PLUS/MINUS…. THERE WERE PEOPLE WHO GAVE TO A CHARITY IN MY NAME…. BUT NOT TO VOICES! I APPRECIATED THE GIFT, BUT REALLY WANTED PEOPLE TO SUPPORT VOICES OF UGANDA.
5) What was the best part? Did you connect with someone you had lost contact with? Any one story you'd like to share?
THE BEST PART WAS KNOWING THAT I DID SOMETHING TO HELP SOMEONE IN NEED. THE STORY THAT TOUCHED ME THE MOST WAS AFTER SIENNA'S BIRTHDAY, WE TOOK ALL OF THE FOOD TO THE DC CENTRAL KITCHEN. A BUNCH OF PEOPLE MET US TO HELP UNLOAD THE FOOD AND THEY WERE SO APPRECIATIVE OF THE FOOD. IT WAS AN AMAZING EXPERIENCE AND I LOVED BEING ABLE TO SHARE IT WITH SIENNA. SHE WILL LIKELY NOT REMEMBER THIS, BUT HOPEFULLY SOME DAY, SHE WILL GET AS MUCH SATISFACTION OUT OF GIVING AS HER MAMA DOES!
** 6) What advice would you give to someone else who wanted to throw a fundraiser but didn't know where to start?**
PICK SOMETHING YOU ARE PASSIONATE ABOUT (IT IS MUCH EASIER TO 'SELL' TO YOUR GUESTS)
DO NOT BE INTIMIDATED
KEEP IT SIMPLE AND MAKE IT EASY FOR PEOPLE TO GIVE. IF THEY HAVE TO SEARCH A WEBSITE FOR A DONATE BUTTON, YOU MIGHT LOSE THE PERSON'S INTEREST!
SEND REMINDERS! PEOPLE WANT TO GIVE, BUT EMAILS GET BURIED.
PREPARE… HAVE INFORMATION ABOUT YOUR CHARITY AVAILABLE, AND TRY TO GET A SPEAKER TO COME TO YOUR PARTY (SEE MY PICTURE OF MELISSA TALKING ABOUT VOICES OF UGANDA)
EXPECT THE UNEXPECTED! THE MOST GENEROUS PEOPLE WILL SURPRISE YOU!
Related posts: TGIF Video: Conservation International Power Shift 2009 – When Things Just Come Together This Is Just To Say
Read more ...
Kiss and Make Up
Women's Philanthropy Institute's Newest Council Member!
My Women's Equality Party Vote Is Dedicated To…
Road To 50
You're Invited! ASPCA Young Friends Benefit
... and more posts from the archives