5 Tips On How To Rawk SXSW Music
March 25th, 2009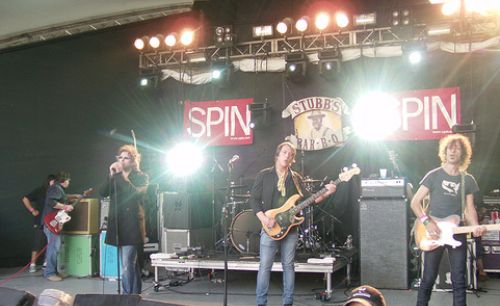 My biggest complaint of SXSW Music is that it starts right after Interactive ends! For the second year in a row, I could have used a two-day break from the madness before diving into music. My focus leading up to SXSW is on what to do and see during Interactive, and this year pimping my Core Conversation on the LA Tech Community, that I miss many party invites and RSVP forwards because in the days leading up to music, I'm not at a computer all day exchanging emails.
Then again, one of the best days is what us interactive geeks call the "transition day." The day music people roll in and interactive folks start to roll out. The conference center becomes this strange hodge-podge of music hipster meets geek-utantes and no one quite knows what to do with the other. Twitter is awash in blasting the music folks and complaints against them (mostly because geeks get all, uh, geeky around the music kids.) Then suddenly, Tuesday is over and by the time Wednesday night rolls around, 6th Street in Austin is closed and has this crazy, hyper energy that can only be created from the knowledge that 1,900 (a record this year) bands are converging on SXSW to perform sets every hour on the hour for four days straight at over 50 venues around town.
When Sunday morning rolled around, I made a list of all the bands I had seen since Wednesday and was amazed that the total was 48 bands in 4 days. Wowzers, right? Making that list was arduous, I should have done it every day I was there. A bunch of my friends asked me the "method to my madness" and how in the world I made it to so many bands and how I knew what to see. I wanted to share those insight here:
1) PACE YOURSELF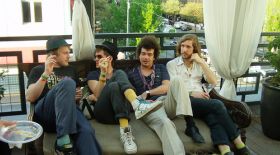 I paced myself slightly better from Interactive to Music this year, last year when music hit I was fried to the point of not coming back and couldn't put together any schedule instead wandering the streets and popping into random places. This worked, kind of, but I missed a lot of things I would have really liked to see.
I didn't do as many day parties as I would have liked. Then again that is what saved me. It would have been hard to do after four days of already being in Austin (and out until crazy hours) and then expect myself to stay through night with the kind of schedule I roll with. I know there is sched.org and I use it, but during music (vs. film or interactive where I rely on my phone) I like to go analog. I write out what I'm interested in by time slot with sometimes up to 4 picks for every hour. Most days I started at 6pm and saw bands every hour until 1AM and then after-party somewhere resulting in an average of 12 bands per day.
I try to drink water between most alcoholic drinks. This doesn't last all night, but I try. I even took one night off from drinking entirely but this was more because of the sheer pain from the night before and not as much a personal choice.
2) TIME WAITS FOR NO ONE
Don't be a fool and wait in line for a long time - unless and only unless - you accept that you HAVE to see Metallica and are willing to have no regrets spending an evening camped out at one venue waiting for them to come on. Most bands play multiple shows, both day and night, so chances are if you want to see a band one night and there is a line or some other SNAFU (like the venue having morons at the door which happens frequently not letting people into a venue until 5 minutes before someone is scheduled to perform), MOVE ON TO PLAN B.
There is a kind of caste system that goes badge, wristband, nada. Having a badge usually lets you slide right into a venue and bypass most lines. However during day parties badges don't apply (not officially sanctioned SXSW events ) and during some "hype-bands" at night there are long lines for badge and for the no badge line. I won't wait more than five minutes. It's not about being obnoxious, it's practical, there is plenty of bands to see at every hour, it's just plain not worth waiting.
My other time advice is that if you get to a venue and they are running really behind - or - you have an artist holding up the whole lineup (ahem Solange or Erykah Badu)  - move on if it's going to annoy you. Everything changes if you walk away. It's strange but true. If we were waiting for a band to come on and one person in our group left, the band would start the next minute. So I guess my other advice could be construed as trick a friend to move on to another venue to get the whole "ball in the universe" thing moving again.
3) PROXIMITY
Proximity from one venue to the next is HUGE. Next year I'd like to think I'll scoot out to Scoot Inn, Continental Club, Playboy Party, Fader Fort…but the truth is, I can't guarantee that. I'm not going to sacrifice hours to get to a party too far away from the main strip. Even La Zona Rosa becomes a trek by the last day. The pedi-cabs are awesome and if my friends had bikes we could roll that way too. Be aware of where each place is you want to go. Some days I created an almost circle going from one place to the next.
Sometimes a band you like is at 8pm, another you don't care about is at 9pm and one that you love is at 10pm at the same venue. I have a hard time standing still during music and like changing venues almost every hour. It doesn't appeal to me, unless under special circumstances, to camp out at one place. I will pick one of those hours and move on from there. Know your limitations - if you're with a crew slowly walking down the street and running late for a set time, the bands only play 30-40 minute sets. It's ok to get half-way there, rethink your plan and go, nah - let's stick around here for that other show we wanted to see.
4) YO MAN, WHERE YOU AT?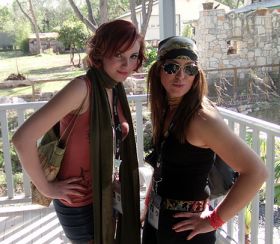 Having music buddies is HUGE. There is an awesome support network between a few friends during music festivals and conferences like SXSW. Where my "music buddies" are is a big deal as the day goes on. Twitter was an #fail for me most of SXSW because of AT&T SUCKING THE LIFE FROM MY PHONE. Too many Iphones at SXSW  and AT&T tower fails caused twitter to drain my battery (and there is no greater nightmare than it being 12:45 and your phone is dying right before the 1AM showcase with no way to contact people.)
I went old-fashioned. I got phone numbers from Twitter friends and had about 5 people (who were not friends with each other so slightly different circles and music tastes) and text with them about where they were, what was on their calendar for the day, if a band was good or not, if there was a line outside the venue they were in. In turn, I did the same for them. Yes, I could have winged it the whole time, but what a gift to know a band I wanted to see had an epic line outside the door three blocks away or another was a huge sleeper hit and I should catch their next showcase when they weren't on my radar before.
*I went to a lot of shows myself too. I wasn't attached at the hip with anyone or any venue the whole time. Having your music buddies is good, but don't be afraid to separate and go see a band you really want to see. Conversely, if you want to take a break or power through and your friends want to go another way…do it. You can always find anyone and everyone later. The SXSW gods will look out for you that way.
(It is here I'd like to thank especially @mattmacnaughton @8bitkid @treyshelton @jeffmillerla @jenrobinson @pago for being those friends for me. A few other good friends helped out too, you know who you are!)
5) LOVE MUSIC - DON'T BE AFRAID TO BE RANDOM
This is maybe the most important tip. I have a lot of close friends that LIKE music, but they don't actively seek out new bands, they don't want to be hardcore and band-hop all day. They day party at Coachella and don't come into the venue until night. They don't go to Spaceland  on a Monday night or read music blogs. They like what they like and those are the bands they see. I'm like their "advance man!" And that's awesome for me. I LOVE MUSIC! Plain and simple. I don't work in the music industry (though my dream is to run Social Action Campaigns and Partnerships for Goldenvoice! wink wink) but I have friends who are and I dedicate time to learning about new music. By keeping my finger on the pulse of buzz bands most of the year, I have seen a lot of bands by the time SXSW comes around and I know which ones I want to see again (hello Silversun Pickups), which I keep missing and want to make an effort to see (Delta Spirit, Duke Spirit) and which are just not worth it live (Peter Bjorn and John, sorry but true). Inevitable I miss others (Janelle Morae, Harlem Shakes) - but then I know there will be other opportunities.
Last, part of the joy of any music festival, but especially SXSW is the random. I popped into Emo's Annex and stumbled upon Sleepy Sun when The Avett Brothers at Stubb's was full. They're a breakout band and totally amazing. No clue who they were. Same goes for Freeland at Maggie Mae's. I went to the Driskoll hotel and found a country band not listed, I have no clue who they are, but they were amazing and I stayed for 30 minutes just to listen to them. Have fun with it! The worst thing that happens is you don't like something and you move on.
I made my daily music "power lists" based on the official SXSW book, looking over MySpace and YouTubes for certain bands (a mellow performance got you cut from top priority slots). I read SOME blogs about bands to see, but mostly asked around. I also have to admit I picked some bands based on name alone. Dananananakroyd - yes I saw them, if just for the name.
So there you have it. I hope this helps for your SXSW 2010 planning or any other music festival you have coming up this year.
Did I miss anything? Are there any tips you can give me?
*photos courtesy of Jolie O'Dell.
Read more ...
Kiss and Make Up
Women's Philanthropy Institute's Newest Council Member!
My Women's Equality Party Vote Is Dedicated To…
Road To 50
You're Invited! ASPCA Young Friends Benefit
... and more posts from the archives