Power Shift 2009 - When Things Just Come Together
February 27th, 2009

Sometimes in life, everything just comes together. Power Shift 2009 is one of those instances for me. Let me play out for you the last week.
Last Friday: I was on twitter and saw the following tweet from @jake_brewer:
Last weekend before #PowerShift09. 131 hours till we open the doors of the DC Convention Center and start building a massive stage. 2:43 PM Feb 21st from TwitterFox
Having not heard of the conference before I looked it up online. I saw it was in Washington, DC and ran from 2/27-3/2. I knew that I would be in Pittsburgh on 2/27 and could quite frankly drive to DC for the conference. I'm also looking for new opportunities professionally and you never what can come from putting yourself in a new environment.
Backstory: I met Jake last May at the Cause Marketing Forum when he was at Idealist. I was in a session and taking notes on my computer and twittering and he came up to me after the session and said that I was the only other person in the room except for him taking notes digitally. Everyone else was using pens and notepads (this is true of many conferences I attend with a lot of nonprofit people there). Since I was at a socially-conscious tech startup and he was at Idealist, we exchanged information and kept in touch all year mostly through social media tools like Twitter, Facebook and LinkedIn. I saw that in the fall he left Idealist for the Energy Action Coalition and sent him a note of congratulations on the new position.
Fast forward to late November and I was asked to moderate a panel at the California Endowment called "Social Media, Social Justice" and one of the panelists was Jessy Tolkan, Executive Director of the Energy Action Coalition. After the panel, Jessy and I got to talking and we ended up going for a drink with two of my favorite and fellow LAisters to Trax at Union Station and talked about election night, the EAC and what they had planned for 2009.
Fade in, and we're back to present day.
Well, I thought. Power Shift 2009, here I come. I tweeted Jake and asked if he needed volunteers or could use an extra set of hands for the conference hoping that I could volunteer my way into a ticket to attend. He said yes (yeah!)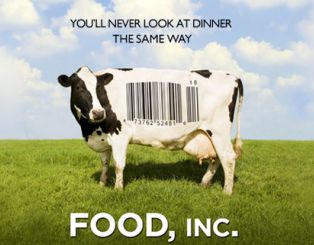 I also had a call scheduled this week a woman, Wendy, from Take Part (part of Participant Media) about starting a blog for them about my recent South American travels (more on this later). At the beginning of our call while making small talk, she mentioned she was flying to DC on Friday for Power Shift 2009. I mentioned I was going and she said it was incredible because they were suddenly in need of a moderator for a panel they were having Saturday morning on a new documentary of their's called Food Inc. It just so happens two of her colleagues went to the California Endowment panel I moderated and so had seen me "in action" and next thing I know, I'm over-nighted clips from Food Inc. and officially registered for the conference.
As for housing? I tried a friend first, his house was full. I tried a friend of my mom's but they were going out of town. Drat. As almost an after-thought, I thought of a family friend who is a real estate developer in DC and called him up and he owns a corporate apartment building with fully furnished units TWO blocks from the convention center. B-I-N-G-O. He is so kindly giving me an apartment Friday-Tuesday.
So there you have it. To me, when life cuts you a break, this is how it should work. But it's also an example of what happens when you use online interactions to help facilitate your offline experiences. Simply conversing with people online or just meeting people at an event doesn't create this kind of synergy. It's the blend of putting the two together that make situations like this happen. I can't wait to go to Power Shift 2009 this weekend and immerse myself in conversation about clean energy and policy.
I'll be live tweeting from @sloane with the hashtag #powershift09.
I know it's hard to think that a conference of young people really has the ability to change Energy Policy, but I'm optimistic. Why not? After all that has come together to get me there, I have a right to be.
Read more ...
Kiss and Make Up
Women's Philanthropy Institute's Newest Council Member!
My Women's Equality Party Vote Is Dedicated To…
Road To 50
You're Invited! ASPCA Young Friends Benefit
... and more posts from the archives