On the Eve of My Departure
June 10th, 2009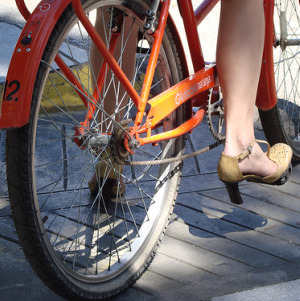 On the eve of leaving the U.S. for three months, I just want to express how incredibly lucky, happy, honored and privileged I feel to be a Kiva Fellow.
Months ago, when my world was turned upside down and I was laid off from my "perfect job" it's safe to say that I was numb for a while and sadly jaded. I took hold of my wanderlust and bought a one-way ticket to Buenos Aires. My sojourn to South America was a series and inhales and exhales. Moments where I felt alive and awake to the experience and empowered for taking such a huge plunge as to give up my permanent housing, and take off to see the world and then moments of fear and intense worry about the future.
I have always been able to pick up, hop on a plane, jump in a car and go at a moment's notice, which is maybe why at the time, I didn't feel like it was a goodbye from Los Angeles. To my friends, the ones I worked so hard to find, to cultivate and eventually to cherish and love deeply, I simply said it was "Farewell for Now."
Once in South America two events repeated themselves amongst the many other experiences I had over those six weeks. First, engaging in one of my deepest passions, people-watching. Spending hours sitting in parks, squares, and coffee shops being an engaged observer. I kept thinking:
Is it really so different the way a mother wipes crumbs away from the small hands of her child? The way a couple in love holds hands and kisses at the edge of a sidewalk waiting for a light to turn from red to green? The way old men sit in a park and play games like checkers and chess all the while joking and jabbing at each other?
In the cities, towns and villages of one country to the cities, towns and villages of the next, I was reminded the parts do not always equal the whole. Or simply said, there are exceptions to every rule. If I truly believed that people are good, then a few bad apples that are bad shouldn't jade my entire picture. People are people are people. I am a good, no great, judge of character and my guilt for not seeing the truth about the people I was working for shouldn't erase my confidence in picking those good apples from the bad. The softness I feel for humanity and for people wasn't gone; it just needed to be restored. No matter how beaten down and battered at times I felt, that sense of idealism slowly found it's way back to me like a lost remote control fallen in the couch seat cushions where one day you reach down and go "aha, I knew it was here somewhere!"
The second event to repeat itself was taking adrenaline-fueled adventures at every turn. White-water rafting, canyoneering, bungee jumping, long bike rides, longer hikes through unfamiliar terrain, I started running daily (something I never thought I'd do). I pushed my body into shock and woke up achy and sore and yet through it all overcame deep-seeded fear daily. Look at all the things I could do and come away unscathed! But more than that, look what happens when you step out into the world and say, "Today is the day I'm going to cross something off my life's to-do list."
The difference between dreams and goals is merely that goals are tasks you are actively seeking to accomplish.
So if my dreams became goals, then what were my dreams but merely things that could happen if I set my mind to them? It was in a mix of geographically changing location every few days and recalibrating my sense of direction to steer towards my latest hostel/hotel that I started to come back to life.
After catastrophic events, people say in whispered tones to the loved ones of whoever was injured, "How are they doing? Are they back to normal?"
The question begs to be asked, "What is normal?" In every event in our lives we are slightly different and forever changed. We are not the same, and often I don't think we'd want to be. We are different; sometimes better and sometimes worse and sometimes just different.
I am not the same person I was last year. And while at first I was running from those changes that were chasing me like robbers from the police, soon I accepted them as part of my fabric. Of my story. A part of me that I cannot change any more than I can change the color of my eyes.
In those moments of clarity, I stumbled upon an email telling me to consider the Kiva Fellowship. And in those moments of clarity, I applied and bought a ticket back to the United States and began the interview process. And in those moments of clarity, I came back to life a little bit more.
In the months between then and now, I continued to rebuild a better "Sloane." I finally did reach a moment, or series of moments, where I knew I was alive again, had found my purpose and put it on like a technicolor dreamcoat made just for me. That chapter is thanks to a little city I've mentioned and ah'ed over called New Orleans.
Which takes us to tonight. I've been accepted as a Kiva Fellow and gone through the most rigorous and amazing week of training and microfinance boot camp leaving me deeply prepared to have a rock-star Fellowship. Ticket to Manila secured, master task lists tasks crossed off one-by-one-by-one.
Now, the moment is here. Off to the Philippines I go to continue my story, my path, my destiny. My heart is full, my brain is engaged and running a mile a minute. And you're all coming with me so I don't have to miss anyone all that much because I can feel so many of you right here with me and it fuels me. Daily.
Thank you for continuing to take this journey with me.
And with that, I say, "Farewell for now."
Read more ...
Kiss and Make Up
Women's Philanthropy Institute's Newest Council Member!
My Women's Equality Party Vote Is Dedicated To…
Road To 50
You're Invited! ASPCA Young Friends Benefit
... and more posts from the archives