First Quarter Review: Acknowledgments and Influences
April 28th, 2010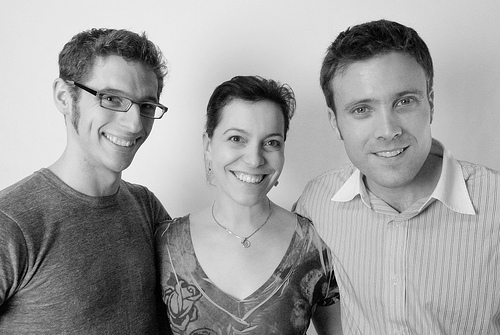 When I think back on the beginning of 2010 years from now, I will remember it as a whirlwind. How else can I ever explain moving to a new city, diving into new projects and clients, entering my first contest (EVER) and then winning and finding myself in Switzerland days later for the World Economic Forum then jumping back to New Orleans for festivities already described?
Through it all, my main and most important constant has been the amazing Taylor Davidson and Carl Nelson. Without these two NOLAlicious wouldn't have happened, would not have grown and I would be experiencing this new city without them - an idea so preposterous I can't even imagine it.
It's not just their spirit, it's their ability to launch new projects, take ideas and make them happen and be tremendous friends.
The influences I've had this quarter are many. The Young Global Leaders I met at Davos moved and shook me, and the opportunity to connect with incredible individuals at talks I've given this Spring including at Rise Austin and SXSW. But if I had to pick two, it would be Taylor and Carl.
And (selfishly) I want them to stay in New Orleans as long as possible, which means they need support for their projects. Let me share…
Narratively: Taylor's a true photographer. In high school he wrapped his own film, shot it and then developed it himself. As a photographer he's shot landscapes and weddings, creative series and had public shows and self-published a book. As a lover of photography, he knows cameras and how to promote photography and has written extensively about how to make money as a photographer, the future of the stock photo industry and where the industry is going. In addition to photograhy, he now offers his services as consulting to share experience and wisdom for other aspiring and established photographers and also online strategy and marketing for brands. His approach is analytical yet thoughtful and I recommend hiring him in any capacity you can.
The Dancing Nomad: Carl is an amazing dancer, to be sure, but the fact that he can teach dance makes his contribution to both New Orleans and the dance community that much stronger. Classes in Lindy Hop and Charleston can be had out of his Shiny Step Studios and he consults to other dancers and dance studios about how to navigate the social web and find a space online to promote their business and services. You can sometimes find him busking on Royal Street in the French Quarter on the weekends or at The Orange Couch in the Marigny. I completely recommend taking one of his classes or hiring him for online services.
Here's to many more experiences with both of them and to more reflections and posts about those who move and inspire me in the months and years to come.
Read more ...
Kiss and Make Up
Women's Philanthropy Institute's Newest Council Member!
My Women's Equality Party Vote Is Dedicated To…
Road To 50
You're Invited! ASPCA Young Friends Benefit
... and more posts from the archives