New York Social Good Holiday Party Tonight...You're Invited!
December 4th, 2013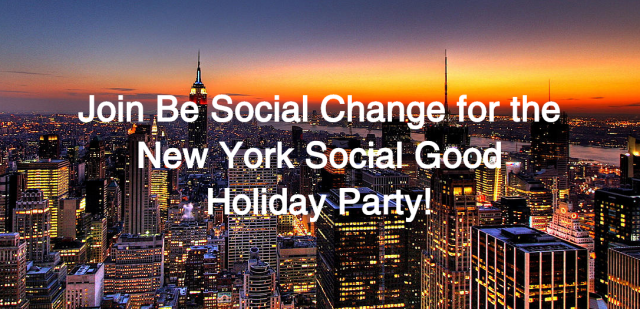 The Causemopolitan has partnered with one of our favorite organizations, Be Social Change, to celebrate the collective impact created by the New York Social Good community in 2013! Tonight (12/4) 7:00 PM, join me and other fellow do-gooders at Wix Lounge to connect with the beautiful and inspiring individuals and organizations driving social innovation and creating change in NYC. At the party, raise a glass, get funky with the Self-Portrait Project photobooth, and if you're lucky, win some sweet holiday prizes from social good organizations.
You can purchase your ticket here: http://bit.ly/17NMGG4. To get a 25% discount click here and use this promo code "CausemopolitanFriend" at checkout.
Invite your friends, break in your dancing shoes, and celebrate the holidays with us and the New York Social Good community! Hope to see you tonight!
Read more ...
Kiss and Make Up
Women's Philanthropy Institute's Newest Council Member!
My Women's Equality Party Vote Is Dedicated To…
Road To 50
You're Invited! ASPCA Young Friends Benefit
... and more posts from the archives