June 6th, 2009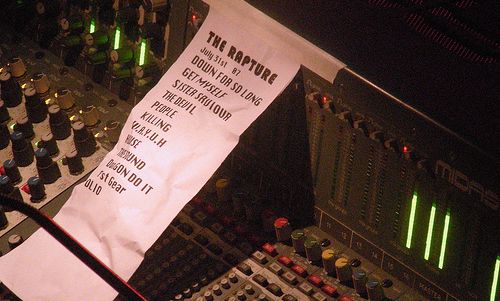 With less than a week to go, I made the following list of things I needed to do before I left. If y'all remember, I did this once before in my Master Task List #1, the week before I left for Kiva Fellowship training in San Francisco (which summing up that week's experience, not ironically, is on this list below). In the meantime, here we go:
Call car insurance company to move car to inoperable while I'm gone.

Take car to family summer house to leave in garage - ask Sean to drive behind me and give me ride back.

Call health insurance and just make sure everything is squared away to go.

Call AT&T; about most recent outages (maybe I can get another discount #sxsw style) and also talk to them about changing plan. Do I want international rates and roaming on my phone or just place the cell on suspended while I'm gone?

New computer yeah! Now must load all programs and update everything before I go.

Download all the music my little fingers can get their hands on since downloading from the Philippines is going to be hard. This includes past mixables from friends, drop.io accounts and getdropbox account.

Complete outstanding interview request: Twirlit and Philanthropy in Five.

Make introductions to possible Kiva / Philippines partnerships.

Go through mail at mom's house.

Set all bills to autopay. (Usually I don't like this, long story why).

Send Jeff updated info for my other websites (lord this is going to take hours but SO excited about other web branding and properties)!

Call Northwest Airlines about crediting past airline miles.

Send Kate all my flight info. (As best friend, she's emergency contact).

Also send flight info to parents and give Papa copies of my credit cards and passport.

Deposit outstanding donation checks.

Send remaining acknowledgment letters.

Errands: REI for travel stuff

GAP for classic T's (don't forget giftcard)

BestBuy (smaller tripod)

Target - ALL health related stuff - must take EVERYTHING before I go, scarce supplies there.

Gifts for host family - definitely lots of Pittsburgh postcards - what else? Terrible towels?

Update Gdocs for donors, acknowledgment letter text.

Newsletter master list.

$100 and over donor list for postcards.

Emails to send out…

Calls to return…

Newsletter list

BLOG POSTS: SF Kiva Fellows training. A bench is not always a bench. I get by with a little help from my friends. Sweet Los Angeles. Off I go. Master Thank You List.

Massage (god if I had time for this I would just be in heaven)

Put together SXSW 2010 panel idea.

Fill Malaria prescription.

Get glasses fixed.

Make sure new contacts have arrived.

Print pictures of family and friends to take with me.

Do I have enough journals to take?

Make packing list.

PACK.
Well - a lot of these I did get to this week. Some I didn't. It's all about setting time limits and for me, I said I would be done with this blog post three minutes ago, so I gotta run! More to do. Wish me luck.
Read more ...
Kiss and Make Up
Women's Philanthropy Institute's Newest Council Member!
My Women's Equality Party Vote Is Dedicated To…
Road To 50
You're Invited! ASPCA Young Friends Benefit
... and more posts from the archives