Join Me: Irvin Mayfield and the New Orleans Jazz Orchestra @ Carnegie Hall
October 8th, 2012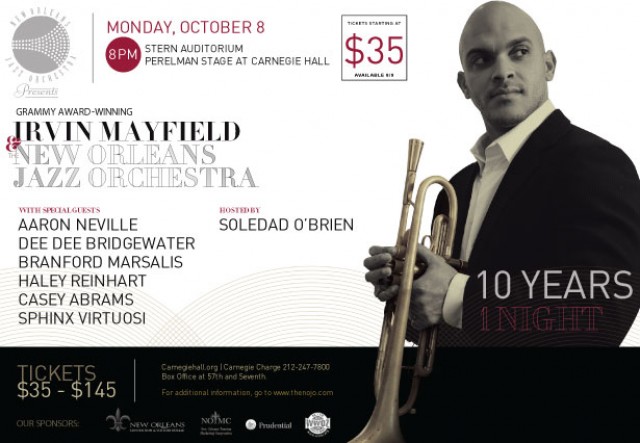 I have a deep love and connection to New Orleans. When I moved to New York from NOLA in 2010, I vowed to stay connected to the community down there - my friends and then also the nonprofits, social entrepreneurs and community leaders I worked with and admired.
From time to time I help promote events here in New York that can bring together those that love New Orleans and can keep the musical spirit alive!
Tonight (Monday, October 8th) is such an opportunity. If you have never seen Irvin Mayfield - I can't recommend it enough. He is amazing and a legend in New Orleans - both as a musician and businessman but also as a philanthropist. For this show the New Orleans Jazz Orchestra will be accompanying him for a celebration of New Orleans jazz music. Oh and did I mention Aaron Neville and Branford Marsalis? Plus it's at Carnegie Hall!
I have a "friends and family" code for Carnegie Hall that will give you 10% off tickets. This will work online at the Carnegie Hall website or at the box office.
Tickets at http://www.carnegiehall.org/Calendar/2012/10/8/0800/PM/Irvin-Mayfield-and-the-New-Orleans-Jazz-Orchestra/
code: NOJ15302
I will be there! For anyone attending, join me for a drink beforehand at Rue 57 at 6:30!
Read more ...
Kiss and Make Up
Women's Philanthropy Institute's Newest Council Member!
My Women's Equality Party Vote Is Dedicated To…
Road To 50
You're Invited! ASPCA Young Friends Benefit
... and more posts from the archives