Our Destination Wedding In Pittsburgh, Pennsylvania
November 6th, 2012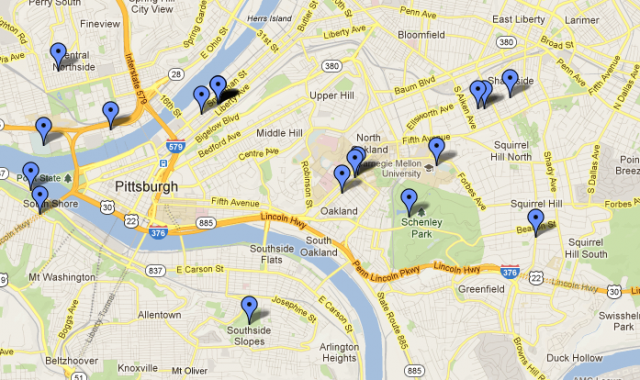 Recently, as many of you know, Taylor and I got married. We chose to get married in Pittsburgh, where my family is from and where most of them still live. Taylor also went to business school there so he spent a good two years in Pittsburgh and has many good memories there. So we picked Pittsburgh. A lot of people stop there when they think about the city they are getting married in. And then they turn their focus on the wedding itself and any other events around their wedding.
That's totally ok! There are a lot of moving pieces around a wedding. I get it. But for Taylor and I, we really wanted to treat Pittsburgh as a destination. As a destination wedding.
Partially this was a nod to my upbringing but it was more than that. I have talked my whole life about how great Pittsburgh is but many of my friends had never been. Or, they had a misconception about Pittsburgh. We wanted to show them how diverse Pittsburgh is and how much it has to offer. We wanted to show the cultural history, the green spaces, the food. We wanted to use this as an opportunity to do our part to infuse money into the economy. We wanted to be good cultural ambassadors. So you might ask…
Pittsburgh as a destination? What? How?
You heard me! And let me fast forward to the end of this story.  It worked. We pulled it off. How? Let me tell you.
First, we wanted to focus on the part of Pittsburgh where my family is from, the East End. So we chose a hotel near that area and most of the weekend activities were centered around that. We had a "welcome reception" Friday night and invited all guests to attend. That way people could meet up and find buddies to do things with on Saturday before the wedding.
Second, we leveraged technology. Not everyone has to do it to the extent we did, scale it to what works for you. For us we built a list on foursquare of our favorite places and told our guests to follow it. We built Pittsburgh into all of our pre-wedding communication (weekly MailChimp enewsletters for us but you could use anything). We customized our wedding website. We created a hashtag for our wedding that guests could follow on Twitter and that way they could also meet up with each other and find out what each other was up to. (Our was #STWedding).
Note: We changed the website after the wedding to show photos and took out event information so if you click through, it's different than it was but the Pittsburgh parts are the same.
Third, we built a Pittsburgh page on our wedding website. It reads like a NYTimes "36 Hours In Pittsburgh" but has our voice, our favorites and is written for different audiences (athletic, culture, foodies, etc). We also talked about transportation and provided information on public transportation and taxi numbers so guests could figure out how to get from point A to point B and didn't feel like they had to rent a car (even though a few did and that worked out great too)!
Note: This was also a nod to our NOLAlicious roots, so the format is one that matches our New Orleans newsletter of 2010 and is a big part of how we first became friends.
Fourth, and maybe the most important, we encouraged our guests (many of whom didn't know each other and were in Pittsburgh for the first time) to meet up and do things together. So the wedding became a chance to explore a city we love and a place we really wanted everyone to see. The wedding was the culmination of the weekend and the lynchpin, but Pittsburgh was the backdrop and we wanted everyone to be able to experience it and love it as we do.
Fifth, we got out of the way! I knew once the weekend kicked into gear that we would be out of pocket. All of this information was communicated well in advance. I actually was jealous when I heard about how all of our friends did just about EVERYTHING Pittsburgh had to offer and I didn't get to do it with them. But I knew I couldn't play along, I had to get ready for the big day! So I let everyone else go and do their thing.
If you're planning a wedding, in Pittsburgh or anywhere else, I encourage you to think about ways to build the backdrop into your wedding. Create the space for your guests to really enjoy the location. Many of them have traveled a good distance for you and your significant other, so let them enjoy the place you choose and enjoy getting to know each other. It makes the wedding all the more special when people leave at the end of the weekend with new friends, strengthened connections and good memories of where they've been.
For Pittsburgh, here are our recommendations…go out and explore! Let me know how it goes!
Go
Expand your mind… at the Andy Warhol Museum and the Mattress Factory. The Andy Warhol Museum is a great place to explore Warhol's work in the town of his birth, and the Mattress Factory currently has a Yayoi Kusama exhibit, a can't miss.
Get educated… by walking around the University of Pittsburgh (you'll see the Cathedral of Learning, the second tallest university building in the world, from various spots around town) and Carnegie Mellon University. Taylor went to school at the Tepper School of Business at Carnegie Mellon University, if you're interested in seeing where Taylor spent 2 years!
Wander… The Strip District, the original economic center of Pittsburgh, now a historic market district that is especially alive on weekend days.
Explore… the Southside Slopes, home to over 700 sets of staircases, more than San Francisco.
Do
Shop… on Walnut Street in Shadyside, home to boutiques, bars, and a mix of long-time Pittsburgh shops and new chains, all tucked into one of Pittsburgh's best neighborhoods.
Shop, eat and drink at The Waterfront and Southside Works, former homes of the steel mills that gave Pittsburgh it's name, heritage, and soul. Go for a drink, a movie, dinner, or shopping.
Yoga… at Amazing Yoga in Shadyside.
Run… in Schenley Park or Frick Park. Frick Park has a couple great playground for kids and plenty of green space and woods for playing, walking, and running.
Eat
Breakfast… at Pamela's Diner in Shadyside. Known for their chocolate chip and banana pancakes, but everything is good.
Indulge… at Primanti Brothers, a Pittsburgh institution, known for hearty sandwiches with fries and coleslaw on the sandwich. Bring your appetite, and prepare to walk off the impending food coma.
Return to your university days… at The "O" near University of Pittsburgh (properly known at Essie's Original Hot Dog Shop) for a hot dog and fries.
A slice of pizza… from Aiello's Pizza in Squirrel Hill. Best pizza in Pittsburgh, according to Sloane.
Get a drink… at William Penn Tavern in the heart of Shadyside.
See
The view and the sunset… from Mount Washington. The view from Grandview Promenade and Mount Washington Lookoutis one of the best of the city. Take a ride up the Duquesne Incline ($4.50 round-trip, exact change) and enjoy the views from one of the most scenic commutes you'll ever see.
A football game… at Heinz Field, home of the Pittsburgh Steelers and the Pittsburgh Panthers (college football). The Steelers are playing an exhibition game on Sunday, Aug 19th (click here for tickets), stay for a game!
Lagniappe
A day trip outside Pittsburgh… to Fallingwater. 50 miles outside Pittsburgh, Fallingwater was designed by Frank Lloyd Wright, and is a national architectual landmark for its style, design, and construction.
Note: Tickets for Fallingwater must be bought in advance for a specific day and time. Time fill up, so definitely plan in advance. Check for tickets here, and all details are at Fallingwater.org. If you're thinking of going on Saturday, make sure to plan for the 1.5 hours drive each way.
Read more ...
Kiss and Make Up
Women's Philanthropy Institute's Newest Council Member!
My Women's Equality Party Vote Is Dedicated To…
Road To 50
You're Invited! ASPCA Young Friends Benefit
... and more posts from the archives