How To Attend The Clinton Global Initiative
October 29th, 2012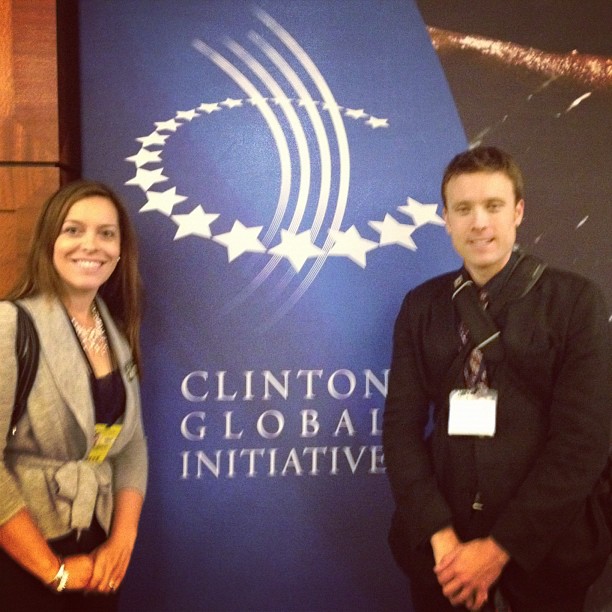 For the past three years, I have had the incredible honor of being able to attend the Clinton Global Initiative. I've met world leaders, I've seen my idols in person (looking at you Madeleine Albright) and I've soaked up the talks, the panels and the incredible speeches from world leaders, including President Bill Clinton.
And I have a little secret to share. It's all on a press pass. I know one day I will be "officially" invited to attend and I'll be on the main floor with all of the other incredible heads of state, philanthropists, CEOs, etc. For now, I have a press pass. And I say that with pride.
Here's why.
I'm not a full-time journalist. I'm not paid to write for a living. I love to write and I do share my experiences here and also by guest writing for other sites but it's just a fraction of what I do for a living. So how do I make this work? You could call it a hack, personally I call it taking initiative. The applications for press passes goes live about 8 weeks before the event. I apply, I show my recent work and highlight that I've attended in past years and I get accepted.
I believe you are who you spend the most time with. For me, I want to be around people who are thinking about the world in big and complex ways and then working on how to take those complex situations and create actionable takeaways to leave their mark on the world and leave it better than how they found it.
None of my clients are at CGI (at least not yet) but my boss and work understand this is important to me and that I am careful to pick what I go to that's outside of my "normal work activities."
At the actual event and in certain circles, a "press pass" is looked down upon. You're one of them vs one of us type of thing.
You know what I think? Who cares. I live in New York City. I haven't always been here, in fact it's only been about two years. As long as I live in the city where so many of these amazing events take place, I'm going to go to them. I'm going to find a way to attend. I'm going to work all the angles I can.
Life doesn't happen to you. You happen to your own life. Take charge. If there's something that you want to do, somewhere you want to go, and all that is stopping you is permission (or an invitation) to attend, find a way to get there. To be present.
I know I do.
Read more ...
Kiss and Make Up
Women's Philanthropy Institute's Newest Council Member!
My Women's Equality Party Vote Is Dedicated To…
Road To 50
You're Invited! ASPCA Young Friends Benefit
... and more posts from the archives