Feel-Good Fashion On The Rise
September 9th, 2013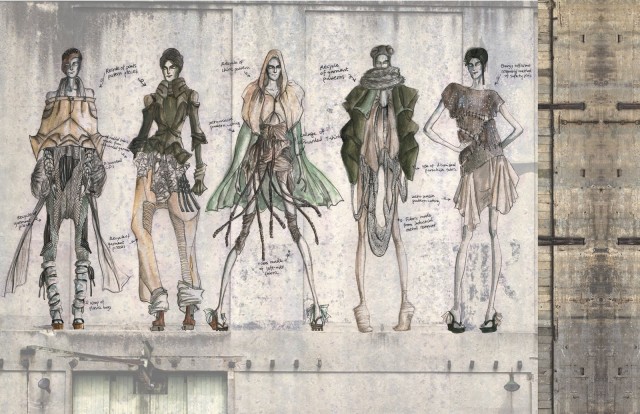 I have been so excited recently at the rise of sustainable fashion. Some, like this recent WSJ article, are calling it feel-good fashion and I get that. It's an evolution from what we think about, or at least what I think about, when I think about what it means to be conscientious about fashion.
Back in 2006 when I was living in LA I remember when I first heard about bamboo being a fabric that could be used in fashion. It was a fabric that grew quickly, didn't need a lot of water to thrive, was good for the environment. Only problem was the only people using it were high-fashion. I ended up finding and falling in love with a Stella McCartney dress that was out of my price range but not insanely expensive and I proudly bought it and wore it to a number of events in LA telling people it was made from bamboo.
The high cost of the goods is a reminder of when any new product or innovation hits the market. VCRs, cell phones, paddleboards - all items that started really expensive and eventually found their way to mass.
This movement towards feel-good fashion is slightly different.  It's not about the fabric necessarily. It's not all about cost either. This movement is different because there is a lot in fashion that is unknown to the consumer. There is also a lot of scandal about working conditions in other countries.
So this new crops of companies are doing things different. They are showcasing their products in a whole new way. This can be show through transparency around how the good was made, where it was made, who made it, what their working conditions are like. It can be about data and how far the good traveled to get to the store. I keep seeing new products and goods within the 1-1 model, which is a fantastic marketing tool and very effective. The market is not over-saturated. There is still room for more companies, more products and more innovation.
These companies have something else in common. Many of them are started with online-only stores to start. Some have branched into popups or live stores but this is a complete departure for how retail used to work. Store first, website second. It's a brand new world.
Certainly if we can say we care so much about the food  we ate and where it came from, we can feel the same for the clothes, shoes, products that we wear everyday.
I've listed out below a few of my favorites in the space right now. Browse their sites and see for yourself.
Hip factor: Of A Kind - Female founders! Limited editions. You can find the coolest goods and when they're gone, they're gone. Customized stories about the makers.
Newcomer: Zady - Female founders! Focused, for now, on American and European-based goods. Just launched so if you buy now you'll be the coolest amongst your friends and can say you knew of the site when.
Affordable & 100% Transparency: Everlane: Obsessed. Affordable. California-based. Honest about where the products are made, including China. They recently released footage visiting the factory there.
Yes, THAT Manifesto: Holstee - You can see where the goods are made, how many miles they traveled. Inspirational products that are great for yourself or as gifts.
Crowdfunded: BOMBAS - This project just ended on IndieGoGo but don't fret. There will be more chances to buy these socks when they BLOW UP. This project was overfunded…by a lot.
Gold Standard: TOMS & Warby Parker. But you already knew that right?
Read more ...
Kiss and Make Up
Women's Philanthropy Institute's Newest Council Member!
My Women's Equality Party Vote Is Dedicated To…
Road To 50
You're Invited! ASPCA Young Friends Benefit
... and more posts from the archives