Exciting Day for NOLAlicious!
May 11th, 2010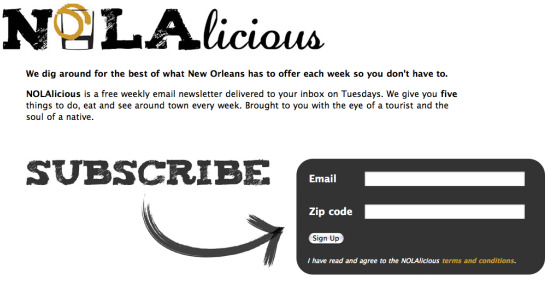 What started as a concept to cowork with two friends (and new transplants to New Orleans), turned into an opportunity to create a small side project capturing the best of 2010 - our first year in New Orleans. NOLAlicious was born and today continues to blossom.
I'm excited to announce that today NOLAlicious launched a new website. We wanted to make it simple - sign up for the newsletter for more great content! We have changed small pieces of either the website or the newsletter just about every week - all the while - creating learning opportunities, reacting to our open rate, click through, sign ups - I have to say side projects are the best place to play. We've made errors, we've had success. We continue to grow and learn from the experience.
What is NOLAlicious?
We dig around for the best of what New Orleans has to offer each week so you don't have to.
NOLAlicious is a free weekly email newsletter delivered to your inbox on Tuesdays. We give you five things to do, eat and see around town every week. Brought to you with the eye of a tourist and the soul of a native.
We also are hosting a Rebuild Day with St. Bernard Project on Friday, May 28th. RSVP now and join us.
More to come about all of the great things with NOLAlicious, stay tuned! In the meantime, sign up now!
Read more ...
Kiss and Make Up
Women's Philanthropy Institute's Newest Council Member!
My Women's Equality Party Vote Is Dedicated To…
Road To 50
You're Invited! ASPCA Young Friends Benefit
... and more posts from the archives