Tech Tools For Social Good - My CalTech Presentation
March 25th, 2010
View more presentations from Sloane Berrent.
I was really excited to have the opportunity to get back to Los Angeles right before SXSW and I have to thank CalTech for inviting me to speak to a group of students about technology for social good and tools they can use to get involved, get active with causes and nonprofits and find ways to give back. It was really an honor to be there, and for the invitation and idea, I have to specifically thank Nicole Czakon and Rosemary Rohde, the students who invited me and set up the talk.
I had just flown in from Austin where I was on a panel at Rise Austin about how to use technology and crowd-sourced tools to help social good projects and companies and was on my way back to Austin to speak at SXSW on a panel about CrisisCamp and how techies united in the aftermath of Haiti's earthquake. So this one was a good opportunity to share the growing talk I have on how people can get involved in cause and nonprofits from armchair revolution style to long-term volunteering. I weave in my own personal stories and those of other people who are inspiring to me as I talk about tools, technologies, crowd-sourcing and open source ways for everyone give back, make it easy and make it feel like a valuable use of their time.
If you're interested in having me speak to your school, community group, organization or company, please send me an email (sloane@thecausemopolitan.com) or use my contact form to be in touch. I'm really excited about building out this talk and a few others and tailor each one with specifics to the audience I'm speaking to.
P.S. Special shoutout to Lynn Langit and Llewllyn Falco for not only driving up from Orange County to Pasadena, at rush hour no less, to see my talk but being great friends and I very much enjoyed grabbing coffee with them afterwards and catching up on all of their amazing projects - which will be knocking the socks off of everyone soon enough.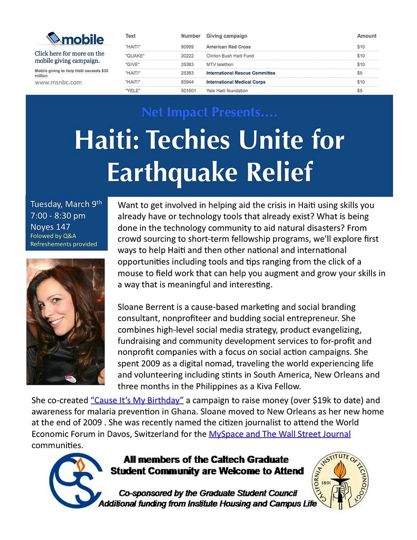 Related Posts: The BakitWhy Interview Day in the life of a Kiva Fellow PowerShift 2009; When Things Just Come Together
Read more ...
Kiss and Make Up
Women's Philanthropy Institute's Newest Council Member!
My Women's Equality Party Vote Is Dedicated To…
Road To 50
You're Invited! ASPCA Young Friends Benefit
... and more posts from the archives