Career Reflections: 14 Commandments for Getting Ahead
August 27th, 2009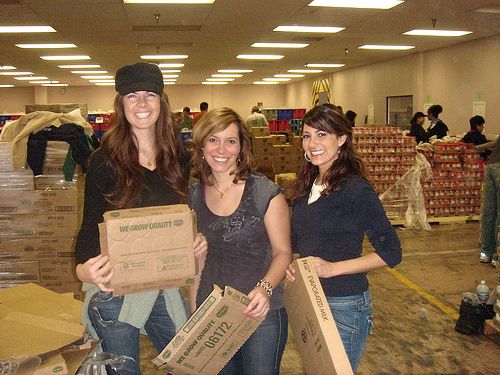 This is a guest post by my good friend, Alexa Brandt. Alexa recently left Step Up Women's Network (of which I am a huge fan and supporter) to enter Babson's MBA program in Boston. After four years at Step Up, Alexa has a lot of fans and her farewell email was one of the most inspiring I've received in a long time.
Alexa sent her 14 Commandments for Getting Ahead and Career Reflections to friends, coworkers, Step Up members and the countless people who look to her as an endless source of energy, creativity, open heart and desire to make the world a better place. With her permission, I'm reprinting that email here.
And now I give you…
Career Reflections: 14 Commandments for Getting Ahead by Alexa Brandt
During my four years at the national women's organization Step Up Women's Network, I had the opportunity to work with and learn from some of the brightest women executives in the country. Upon departing the organization to pursue my MBA, I am eager to share 14 commandments that have helped me get ahead in my career. I hope these tips will provide you with fuel for your professional advancement.
Dream jobs do exist. Understand your gifts and search long and hard until you find a role that puts them to good use. I speak from experience and will always be grateful for the phenomenal opportunity I was granted to play a small role in building Step Up Women's Network into one of the most sought-after women's networks in the nation.

Be an active community member – it pays. Find your cause, organization, or community group and get involved. Inevitably you will feel more connected, learn new skills, and build lasting relationships. Get started at Idealist. Once you find your organization, make friends with the staff and members of the board of directors. These individuals hold the keys to the best volunteer roles and event invitations.

Have a great business idea? Secure your web presence by purchasing the domain name for $10 a year at GoDaddy (I personally own seven). Build a free website at Yola.

Get connected. Every Friday go through your email inbox and send LinkedIn and Facebook requests to each new contact you have communicated with that week. Learn great insights on developing relationships by subscribing to expert Keith Ferazzi's newsletter.

A little graphic design can go a long way. Find a talented graphic designer who understands your vision and use them for everything from business cards to party invitations. Make it affordable by using a graphic design auction site like 99 Designs.

When in doubt, smile and wear a stylish outfit. A fierce combination of the two has the ability to open many doors.

Learn how to use catchy language that sticks. Read Made to Stick by Chip and Dan Heath. It changed the way I wordsmith and as a result more and more people are able to quickly understand my vision, ideas, and goals.

Never underestimate the power of a hand written thank you note. Purchase very affordable personal stationary with easy to use templates at VistaPrint. Send thank you notes out frequently when deserved (both to individuals and their bosses!).

Stay informed. Find media that speaks to you and subscribe. Some of my favorite e-newsletters and magazines are Trend Central, TED, Ode Magazine, The Week, PINK Magazine, and Fast Company.

People, even the Fortune 500 bigwigs, are very accessible. Challenge yourself to reach out to at least five people who impress or intrigue you each year. Request an informational interview or simply 15 minutes of their time by phone. You will be surprised by how many people invite you into their offices and lives when you express sincere interest in their work.

Ask for what you want and need. Be clear, be bold and be direct. People want to help other people so let your network know how they can help you.

Icebreaker games are the fastest way to build camaraderie quickly among strangers. In my reign as the "Ice Breaker Queen" at Step Up I came to realize that even those individuals who initially resist participation are always thankful and appreciative for the camaraderie that results in the end. Some icebreaker game ideas are here.

Celebrate and share your successes. My favorite way to recap after an event in the office is by having a "Compliment Fest." It's simple: One by one, each team member is recognized for everything she/he did well by each of the other team members. It enables everyone to have a voice and create a positive platform to discuss the event (even if everything about the event was not positive). Ask colleagues to send their compliments to you over email so you have a record of the positive feedback. Use it when it is time for a review. On an annual basis send out a well crafted email to your network highlighting professional updates and impressive career accomplishments.

Pay tribute to those who have who have supported you and stepped up on your behalf.

Alexa Brandt flexed her philanthropic muscles as a Senior Program Manager at Step Up Women's Network from 2005-2009. Her next stop is Babson College to pursue an MBA (don't worry – she already printed new branded stationary for all of her thank you notes). Shoot her an email at abrandt1@babson.edu.
Read more ...
Kiss and Make Up
Women's Philanthropy Institute's Newest Council Member!
My Women's Equality Party Vote Is Dedicated To…
Road To 50
You're Invited! ASPCA Young Friends Benefit
... and more posts from the archives