Beyoncé Debuts 'I Was Here' for World Humanitarian Day
August 31st, 2012
I already love Beyonce. That part should be clear. She has done an amazing job of controlling her online image. Not many women can have over 5,000,000 followers and one tweet (at least until recently) that says, "Hey World, It's B! I'm so excited to invite you to my new http://beyonce.com - we've been working hard, and it's finally ready for you XO." The new site she is referring to is her Tumblr: iambeyonce that is real and candid photos of her taken by friends, family or her husband. It actually was the (partial) inspiration for our wedding website.
I also have so much respect for the United Nations. I'm honored to have been invited last year to give a talk on "Social Media For Social Good" to the worldwide United Nations communications staff at a Summit they hold annually.
So it was an privilege to be invited along with 200+ humanitarians to the United Nations one Friday night in early August to see Beyonce dedicate her latest song "I Was Here" to the UN in honor of World Humanitarian Day. Held in the General Assembly hall, she sang her song in one take while an incredible video montage showed behind her. The coverage for the #iwashere campaign since it launched August 19th has been incredible.
To find out more and get involved in this campaign that grows bigger and better every year, visit the website I Was Here to pledge your support, follow #iwashere on Twitter and find a way to make a difference this year - in your neighborhood, in your country, or anywhere in the world.
Thank you to all involved in the production of this amazing gathering of people, the website, ongoing promotion and execution. It was such a moving evening at the UN and I'm so honored to share the campaign here on The Causemopolitan.
**What is World Humanitarian Day? **
Every year on August 19th, World Humanitarian Day recognizes those who face danger and adversity to help others. August 19th is the anniversary of the 2003 bombing of the United Nations headquarters in Baghdad, Iraq, which killed 22 people.
We honor those who have made the ultimate sacrifice, and we pay tribute to those who continue to help people around the world, regardless of who they are and where they are.
Every day we see and hear images and stories of pain and suffering in our own neighborhoods and in countries far away. But we also find acts of kindness, great and small. World Humanitarian Day is a global celebration of people helping people.
More ways to get involved: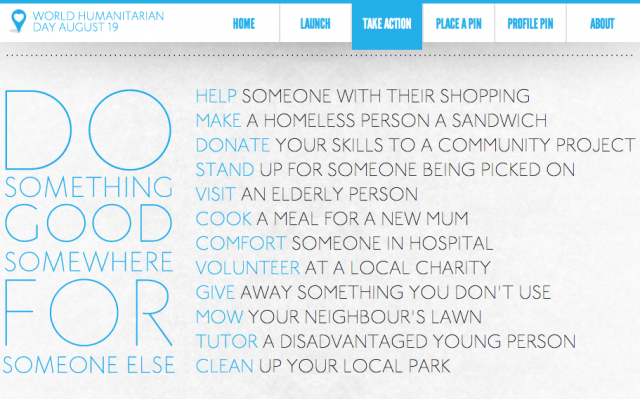 My slideshare from presenting to the UN:
** Social Media For Social Good Talk For The United Nations ** from Sloane Berrent
Read more ...
Kiss and Make Up
Women's Philanthropy Institute's Newest Council Member!
My Women's Equality Party Vote Is Dedicated To…
Road To 50
You're Invited! ASPCA Young Friends Benefit
... and more posts from the archives