Art Across America: Traveling Art Exhibits
September 12th, 2013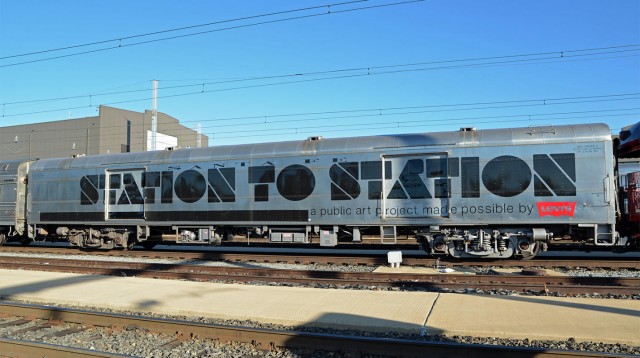 I really love art that comes to life. From museums to galleries and now popups and traveling art exhibits.
When I travel I always seek out art to see in some form or another. It's such a good indicator of the place you're in, a capsule for the moment of time the artist lived. I'm always curious how art from our generation will be judged. So much art today is temporary, so much of our expression is digital. I wonder what will happen. Of course, beyond art there are many forms of expression that enrich our lives (theater, dance, music) but let's stick to art for today.
The following exhibits/traveling art shows came onto my radar and I had to share them.
Where/When:Brooklyn Bridge Park | Thu Sep 19 - Sun Sep 29
Kings County exhibition producer United Photo Industries takes over Brooklyn Bridge Park's Pier 5 to create a pop-up village honoring the art of picture taking. This year's festival also includes a beer garden dispensing Brooklyn Brewery suds. Peruse 45 shipping containers, which provide venues for curated gallery installations—from photojournalism chronicling Liberia's civil war to Yeah Yeah Yeahs guitarist Nick Zinner's intimate on-the-road shots of his fellow band members—and interactive workshops, as well as panel discussions with photographers, editors and publishers. Then wander past a 1,000-foot-long fence displaying 200 large-form prints made out of photographic mesh that correspond to the theme "Community: Home/Street/People/Creatures/Play."
Where/When: Train stations across the country, check for your location HERE
Over the course of three weeks in September 2013, a train will travel from New York City to San Francisco, making nine stops at train stations across the country. A public art project made possible by the Levi's® brand, Station to Station will raise funds through ticket sales and donations to support non-traditional programming at nine partner museums around the country. Organized by artist Doug Aitken, Station to Station will connect leading figures and underground creators from the worlds of art, music, food, literature, and film for a series of cultural interventions and site-specific happenings. The train, designed as a moving, kinetic light sculpture, will broadcast unique content and experiences to a global audience. For a brief moment, the most interesting place in the country will be a moving target.
Where/When: Interstate 10 from Jacksonville, FL to Los Angeles starting in October 2013
The Manifest Destiny Billboard Project is a series of artist-produced billboards and activations that will unfold along the Interstate 10 Freeway. Spanning the United States from Florida to the California Coast, the project will map out the American fantasy of Westward expansionism by moving through and punctuating the narrative of the landscape itself. Initiated by artist Zoe Crosher, the project will be an involved collaboration between Crosher and several artists, including Eve Fowler, Bobbi Woods, and Mario Ybarra Jr. This project will allow each of the artists to explore their shared investigations into the development of society and cities, specifically the westward manifestation that has built Los Angeles into the cultural epicenter that it claims today.
There are so many more examples of art coming to life in cities and in public spaces. Two examples that come to mind are The Sprout Fund in Pittsburgh, PA and the Salt Lake Arts Commission in Salt Lake City, UT. Many cities are now looking to find ways to turn abandoned areas into art. Beyond art, there are groups like Rails To Trails turning train lines into trails. It makes me really excited about the future of cities and how art is coming to life. The creativity is endless and really inspiring. This is a space I'm paying a lot more attention to, not just in New York or even in the U.S. but I'm looking for examples like this around the world. If you know of any, please share them in the comments!
The Gold Standard: The High Line in New York City. A public/private partnership that took an abandoned railway and turned into a public park with art installations, food areas and so many events and activities and ways to connect and engage. It's truly one of my favorite places in the world and if you haven't been, please visit on your next New York trip. Take pics and share them!
Read more ...
Kiss and Make Up
Women's Philanthropy Institute's Newest Council Member!
My Women's Equality Party Vote Is Dedicated To…
Road To 50
You're Invited! ASPCA Young Friends Benefit
... and more posts from the archives