January 5th, 2011
I have written earlier this week about my struggle getting into the 2010 review and resolutions for 2010 but thanks to these 5 annual review posts, and then starting small with My Cities 2010 list and some quality time with my journal, I'm ready. Tempted though I was to skip it and not share at all, it's these sticky and difficult places that I have to push through to make myself stronger. Would you agree?
Last year's annual review and reflections can be found here and here with the My Cities 2009 here.
There was a process in part last year, but I knew I wanted to improve upon that practice so I decided to take a few of the following statements and answer those questions and go from there. As a note, I left travel out for the most part since I included reflections in the My Cities post.
What am I most proud of from 2010?
What didn't worked or could have been better about 2010?
What lessons did I learn in 2010?
What am I looking to create and what challenges do I see for 2011?
After writing down all my thoughts in my journal to each of those questions, I took each statement and expanded upon it and let it ruminate a bit more. I'm answering the first two questions about 2010 in today's post and the other two questions in a post tomorrow. Without further ado.
What am I most proud of from 2010?
2010 was truly a spectacular year. If I had to sum it all up, I would say I created great relationships with new people while continuing to build upon relationships that were already near and dear to me. This wasn't always easy since I was traveling quite a bit and also in a new city, but friends and family come first. I also think that back in 2008 I let work take over my life and suck me dry and that my personal relationships suffered because of it. This year I made sure to take time to be "offline" and not get stuck in the race.
Being based in New Orleans was amazing as well. After five years in Los Angeles (until December 2008) I was used to being far from my family in Pittsburgh and not being able to make the little events because it was just too far. While New Orleans is not right around the corner from Pittsburgh, it is only one timezone off and a fairly quick flight home. I was able to make my grandpa's 90th birthday celebration this year and that was huge. Just being closer felt really nice, even though not a day goes by that I don't miss Los Angeles, my amazing friends there and the sunshine on my face and access to great hiking, beaches and mountains.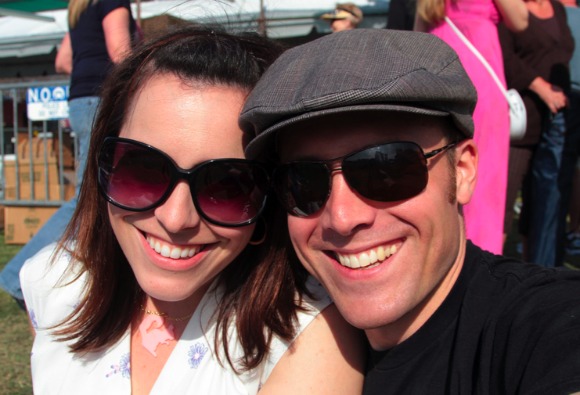 I won't gush on and on about Taylor, though I could. But I have to thank New Orleans (again) for bringing us together and in particular a few very special friends who saw my friendship with Taylor and knew something more was there between us before I did! It's not my first rodeo and I wasn't looking to be in a relationship when Taylor and I became friends. And then something happened. It didn't feel like a rodeo at all. There wasn't questioning or second guessing about how one person or the other felt. There wasn't anything to disagree about or get into silly little battles over and we didn't push each other's buttons to have to prove how much we care. We just knew we did. Learning to let go and give in a little bit, I saw that I didn't lose myself in the process and that spending time with Taylor made me a better person. I'm much calmer now (being 30 might have had something to do with that too!!) and so while I'm still the same go-getter in all the same senses of the person I was, I'm better because I now have someone to share it all with. For those who don't know me offline, I'm a pretty big jokester and goofball when I'm not heart set on changing the world and to let this part out in a place where we just laugh and laugh is incredible. The other thing is that we compliment each other really well and there isn't a huge separation of church and state with us. We help each other with projects (online and off) and that was huge this year with events like Gulf Coast Benefit and our New Orleans weekly enewsletter NOLAlicious. As an added bonus, Taylor is one of the only people I know who has been to more states in the US and countries than me and we travel really well together. Actually we just adventure really well together in general whether it's a bike ride through the Marigny in New Orleans, hiking in Shenandoah National Park, or negotiating buses, taxies and on foot in Ghana, and all of that makes a huge impact oh how we see the world and also how we see our future together.
Professionally the year kicked off with a bang! I entered, and won, a video contest to attend the World Economic Forum in Davos, Switzerland on behalf of MySpace and the Wall St. Journal. If you haven't seen highlights from that trip, visit the custom page they created for my trip here.
Davos laid the path for the rest of the year which included over a dozen speaking opportunities at colleges and conferences nationally and for the first time, internationally when I went to Dublin to speak at the Dublin Web Summit in October. My main topic is "Baking Cause Into You Company" followed my a talk called "Social Media for Social Good" with a focus on fundraising for nonprofits online. Examples of my talks can be found on my SlideShare. Through founding and hosting the first CrisisCampNOLA, I attended a shareholder meeting at the World Bank this summer with CrisisCommon hosts. I also attended the Clinton Global Initiative and was named a Top 10 Twitter influencer by Waggener Edstrom and also named to the Top 10 Women To Follow in a Forbes blogpost.
On the web front, The Causemopolitan relaunched in October! When I first started The Causemopolitan in February 2009, I had not idea what would happen nor how much this tiny corner of the web would come to mean to me and so I really wanted for a long time to relaunch it with a more streamlined and focused approach to finding and discovering content while also giving the site a facelift with a new color palette and background template.
Answer With Action also relaunched as a platform for my consulting practice. Answer With Action has been evolving since 2006 and it was amazing this year to see it take off which included working on campaigns with the likes of Microsoft, Macy's, PGi, Ochsner Health System, ezetop and agencies like FSC Interactive and Everywhere. I hosted a series of salons around the country, first in Austin for SXSW and then corresponding with being on tour for the Mashable SummerMash series. I had great partners and clients and all of my work came from referrals. A huge thank you to everyone who played a part in this success!
I also co-produced two series of Gulf Coast Benefits raising over $60,000 for nonprofits providing aid for families affected by the Gulf Coast oil spill. SloaneBerrent.com (which actually looks like an AboutMe page but is not) also was relaunched.
As a side project, NOLAlicious has a very special place in my heart. Taylor, Carl and I (along with help from three amazing staffers) create a weekly enewsletter that provides five things to eat, see, do and more in New Orleans. We also list job opportunities and have a weekly photo that can be used as a desktop image (or for the iPhone and iPad) and an Amazon store of some of our favorite things, a Tshirt with our logo and a 2011 calendar we created that is for sale.
I volunteered my services probono to nonprofits and projects and I also donated money to causes I believe in and also to friends running races or raising money. I also went to Ghana in November to deliver malaria nets and much more on that trip is coming in the coming weeks.
All of this serves as a platform to continue to grow in 2011. I often have this feeling like I'm not doing enough and looking back on this year, if for only a moment, my restless mind is quiet. It's good to be proud of our accomplishments!
What didn't worked or could have been better about 2010?
Lack of focus. I worked on a lot of projects, but there wasn't one clear theme through them. I got better as the year went on (and said no for projects that didn't fit) but I do feel like I am looking to focus on a few key area for 2011 and be more specialized versus a generalist in the digital strategy space.
Too much travel. I know it's a catch-22. I travel for work and it's a sign of success, and it's easy for me to get on and off a plane. Still, I didn't feel really connected to one place and that was hard on me. I will continue to travel extensively in 2011 I'm sure, but I want it to have direction and a clear purpose.
Didn't finish a few key projects that are on my plate. I wanted to finish a book proposal and wanted to launch a webshow and neither of those came to fruition. Part of that is because other things took priority, which is ok, but part of it is because I didn't put my feet on the fire with these. I need to hold myself more accountable this upcoming year for the projects that make me "uncomfortable" but in the end will push me to be better.
Continuing education still eludes me. I value education so much and really want to pursue an Masters of Public Administration full-time or part-time and I just wasn't in a place this past year to do that or to take any professional development classes. Personal R&D; is something I know is very important and I did spend time on my professional growth this year, but not in this structured environment.
So there it is! A lot about this past year and tomorrow will bring a post about the big lessons and take aways and then what is coming up in 2011.
Read more ...
Kiss and Make Up
Women's Philanthropy Institute's Newest Council Member!
My Women's Equality Party Vote Is Dedicated To…
Road To 50
You're Invited! ASPCA Young Friends Benefit
... and more posts from the archives