Adam Gilman's Birthday Wish
January 19th, 2010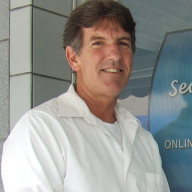 Continuing the birthday interviews this week and we're kicking it off with Adam Gilman. Adam is a change agent, he is passionate about leaving a positive mark on the world and through his One Cause At A Time campaign is looking to reach millions to promote causes. It's because of Twitter that Adam first came across my radar and when I was looking for people to interview about birthdays and making it about giving and not getting, I knew Adam had to be on the list. Hope you enjoy the interview below.
1) Tell me about your birthday and fundraising campaign. When was your birthday? Was it a milestone? What was your inspiration? What nonprofit did you partner with? Did you tell them in advance? What was your fundraising goal (if you had one) and did you reach it?
I set up the September 11th Fund to support the National September 11th Memorial & Museum / World Trade Center Memorial. The 9-11 Families for a Secure America Foundation and the Courage and Valor Organization, raising thousands of dollars a month for our One Cause At A Time Program. My birthday is September 11th, a day that will forever be a day of mourning for our country. No longer special for me or a day to celebrate. Not a milestone (43) but will always be remembered in a negative way. Our fundraising activity is not a traditional one-time event but an on going monthly process utilizing the power of online commerce. We have partnered with the Together We Can Change the World Foundation which supports our causes plus at least 12 others directly and thousands of others indirectly on a monthly basis..
2) Did you use online tools? Did you have a birthday party in person? What was your way to connect with people and tell them about this?
We use online social networking sites such as Ning.com, Twitter, and Facebook to develop awareness to our One Cause At A Time program.
3) What have you done for past birthdays?
Before setting up our Foundations, birthdays were just for families and friends but now they are a powerful force creating a sweeping change all across the world.
4) Would you do a fundraiser for your birthday again? Was it easier or harder than you thought it would be?
Absolutely! I am always looking for opportunities to support and will continue to do so. There is such a tremendous need with our economy the way it is and conditions as they are. Once I knew my purpose putting the fundraising project together was quite easy to do. Getting supporters and promotion of the concept is much more difficult.
5) What was the best part? Did you connect with someone you had lost contact with? Any one story you'd like to share?
I have been able to connect with hundreds of people I went to school with and through the social site have hundreds of new friends and supporters.
**6) What advice would you give to someone else who wanted to throw a fundraiser but didn't know where to start? **
Do your homework. about using the Internet as a means of promotion and public awareness. Find out all you could about nonprofit organizations and the way the NPG works.
Join a program already experienced with the type of fundraising you are interested in and promote, promote, promote. We invite supporters to our program from other places on the web including 5 Million For Change Campaign, One of Our Beneficiaries and through the Midway Baptist Church Charities.
Thank you very much for this opportunity.
**Thanks to you Adam! ** More birthday interviews coming all week! And if you've done a fundraiser for your birthday and would like to featured in this series or an upcoming one on The Causemopolitan, shoot me an email at sloane@thecausemopolitan.com, contact me through the contact page on this site or on twitter at @sloane.
If you liked this post, you might like: Denise Wakeman's Birthday Campaign New York City Cause It's My Birthday Pictures TGIF Video: Conservation International
Read more ...
Kiss and Make Up
Women's Philanthropy Institute's Newest Council Member!
My Women's Equality Party Vote Is Dedicated To…
Road To 50
You're Invited! ASPCA Young Friends Benefit
... and more posts from the archives