Why White Ribbon Alliance?
September 30th, 2011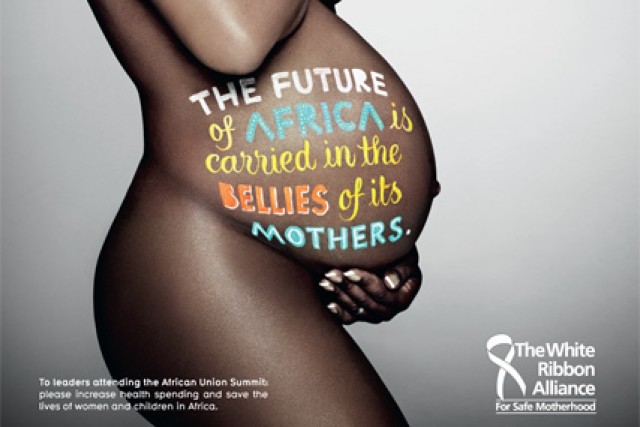 "If we can fix things for mothers – and we can – we can fix so many other things that are wrong in theworld. Women are at the heart of every family, every nation. It's mostly mothers who make sure children are loved, fed, vaccinated, educated. You just can't build healthy, peaceful, prosperous societies without making life better for girls and women." – Sarah Brown, Global Patron, White Ribbon Alliance. From White Ribbon Alliance Atlast of Birth.
I first came across the White Ribbon Alliance at the World Economic Forum in 2010. I met their founder and was moved by not only her stories about women in the developing world but her hard facts about maternal healths and the truth about what is happening in many parts of the world today where little to no care is given to women giving birth and the very real mortality rate for mothers and newborns.
I have been a supporter ever since. Those who know me often say I'm a "cause filter" because I look very carefully at organizations, what they do, what their intentions are and where they are spending their money. I proudly support WRA because they are making a real impact, with powerful campaigns, partners on the ground and patrons around the world all working towards the same goal – to reduce mother and newborn mortality around the world.
I wrote about White Ribbon Alliance on Help A Woman Out (my Tumblr where I focus on women's issues only) and frequently tweet and post about their events and campaigns. I was honored to be invited to a seated breakfast during the recent WIE Symposium hosted by Arianna Huffington, Donna Karan and Sarah Brown. At the Wake Up Call For Women and Newborns of the World Breakfast, I had the opportunity to meet and talk to many women like myself – in positions of influence (though certainly many of them were WAY more influential than me) and use our voices to spread the message of WRA and their mission. We heard from not only our hosts (who are just as fabulous and inspirational as you might imagine) and also hear from Frontline Health Workers on the ground and leaders in the vaccination space like the President of Merck Vaccines, Julie Gerberding.
The good news is that things are getting better. The investments have been made and now the hard work has to be done. Campaigns like Mothers Day Every Day are helping bring awareness to the ground.
The top priority for many of us in the U.S. is education. From there, we must speak up and use our voices to say that this issue matters. To help, here is more information on White Ribbon Alliance and some fast facts you should know. For more information, I encourage you to visit their website and you can also ask me any questions and I'm happy to help or direct you to someone at the organization.
Why White Ribbon Alliance? A thousand women still die needlessl each day around the world giving birth, leaving millions of orphans. Their newborns often die too. Half of women giving birth in Africa today do so alone, or with only a neighbor or relative to help them. A million more health workers, better supported, could save millions of mother and their newborns. Never had so much been promised to maternal health ($40 billion in 2010); now we must make sure those promises are kept. White Ribbon Alliance is a grassroots network of many thousands of individuals and organizations around the world, making women's voices hear and holding leaders to account. Together, are are succeeding. Join us to help make needless maternal and newborn deaths a thing of the past – for all women.
More Fast Facts:
Every day, 1,000 girls and women die in pregnancy or childbirth.

Ninety-nine percent of maternal deaths occur in developing countries.

In sub-Saharan Africa the chances of dying in pregnancy or childbirth can be as high as 1 in 14, compared with just 1 in 4,200 in Europe.

The world needs 3.5 million more health workers, including community workers, midwives, nurses and doctors to provide specialist emergency care.
Click here to learn more.
**"Women are not dying of diseases we can't treat…they are dying because societies have yet to make the decision that their lives are worth saving." – Professor Mahmoud Fatullah**** **
Read more ...
Kiss and Make Up
Women's Philanthropy Institute's Newest Council Member!
My Women's Equality Party Vote Is Dedicated To…
Road To 50
You're Invited! ASPCA Young Friends Benefit
... and more posts from the archives