Who Dat Nation Takes Over!
February 10th, 2010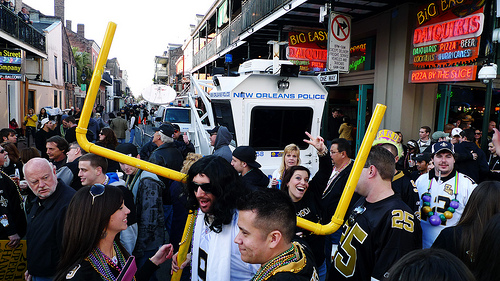 The Saints won the Super Bowl and the city of New Orleans has barely taken a moment to breathe since. It's been parade and celebration and second line and high fives and hugs and everything you could imagine and more here in The Big Easy ever since Sunday night.
In honor of the true excitement of the big win, here is little video (part 4 of 4 videos I did on Sunday) right after the big win, on Bourbon Street, in the madness. See the bottom of the post to more videos leading up to and including the mayhem.
(You'll never see Katie Couric get this excited)
There's more. Have you heard about all of the 44 craziness from Sunday? Check this out:
Sunday was Super Bowl 44
Obama is the 44th president
There are 44 days from Christmas to the Super Bowl
The Saints franchise is 44 years old
Sunday was 4 years and 4 months since Katrina
Saints won NFC Champ in 4 minutes and 44 seconds in overtime with a 40-yard field goal
Crazy, right?
To start from the beginning and see how we got to video 4, let's go in order. See the day progress!
Big thanks to the easily-swayed Taylor Davidson for taking the videos and a great partner-in-crime going all through the French Quarter with me on game day and celebrating well into the night. For two newbies, we're not doing so bad here in New Orleans!
Related Posts: Getting Back In The Groove Cause It's My Birthday New Orleans Slideshow Where's Your Companion?
Read more ...
Kiss and Make Up
Women's Philanthropy Institute's Newest Council Member!
My Women's Equality Party Vote Is Dedicated To…
Road To 50
You're Invited! ASPCA Young Friends Benefit
... and more posts from the archives