We Need Your Vote! NOLAlicious is a finalist for The Gambit's Web Awards!
June 14th, 2010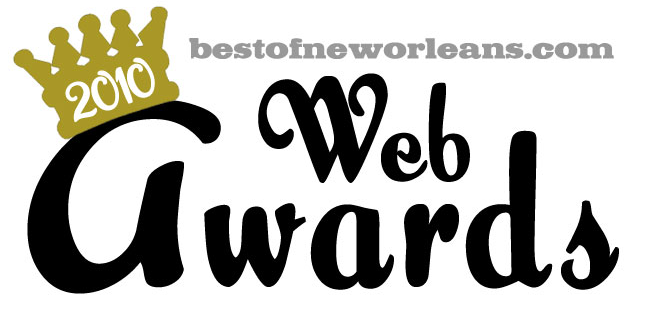 NOLAlicious has been named one of three finalists for best e-newsletter in New Orleans in The Gambit's 2010 Web Awards. Click here to vote for NOLAlicious and check out the rest of the finalists where so many of our friends are nominated in other categories.
You can read more about the nomination on our Tumblr for NOLAlicious.
As many of you know, NOLAlicious is my baby. It's my passionate side project. It's one of my favorite things about 2010 and a creation I am deeply proud of. It's a collaboration effort with two friends that is a daily learning experience and opportunity to share all the things we love about New Orleans with the rest of the world. To think of how far we've come in six months is incredible!
To those who don't know…NOLAlicious is a free weekly email newsletter created with collaborators (and fellow new-to-New Orleans residents) Taylor Davidson and Carl Nelson. We give you five things to do, eat and see around town every week, through the eye of the tourist and the soul of native. We also give you job and travel tips and some pretty awesome photography each week too (if I may say so myself). It's a little bit for everyone and for the native New Orleanians, recent transplants, expats living around the country, to those who have visited once and got bitten by the bug, NOLAlicious is your way to take a little bite out of New Orleans every week and explore, just like us.
Win or lose, we'll keep sending the newsletter every Tuesday, but man, I really hope we win because I KNOW it would mean so much to everyone involved and we promise to keep growing and listening to YOU and giving you the best content we can find and deliver each week. Plus, we have new features launching soon that are amazing, so what do you say, can we have your vote?
Here's what you can do:
1) VOTE 2) Post to your Facebook wall or Twitter this message:
I just voted for @NOLAlicious to win @The_Gambit 's web awards for best e-newsletter. Your turn! http://bit.ly/GambitWebAwards
3) TELL YOUR FRIENDS!
Thanks everyone, and keep sending in tips for what we can do to make NOLAlicious better and ideas for what to feature. I love reading our emails from the community!
Read more ...
Kiss and Make Up
Women's Philanthropy Institute's Newest Council Member!
My Women's Equality Party Vote Is Dedicated To…
Road To 50
You're Invited! ASPCA Young Friends Benefit
... and more posts from the archives