Thank You For Your Donation!
May 14th, 2009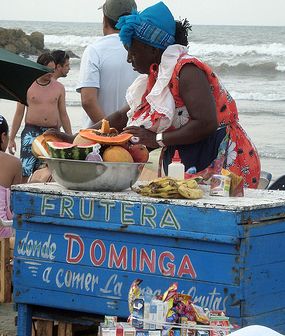 Well, I'm two weeks into fundraising for my Kiva Fellowship. I started my fundraising on Thursday, April 30, 2009, and so on the closing of the second week, I've decided that on Wednesday nights I'll take a moment to thank the people who have so generously made a donation towards my Fellowship. This list of donors can also be found on the Make A Donation page - it is because of YOU and YOUR faith in me, that I'm able to go on this amazing Fellowship on behalf of Kiva. Second, I'll talk about how the fundraising went and any tips to go with it. But first the thank you's…the following list is ALL of my current donors. I have tried to attach a website to each person so if you're reading this list you can see more about the amazing people who are supporting me. I never cease to be touched and truly honored when I see an email come in for a donation. Some of these people are dear friends, some professional contacts, some people I only know online, some people I don't know at all. To those of you who have had that moment to press "DONATE NOW" I can't thank you enough. Drum roll:
Current Donors Addie King* Amie Gillingham Andrew Larimer Andrew Lin Brian Weis Bryan Appel Callie Miller* Chris Schultz* Damon D'Amore Dave Lakhani Dave Levine Denton Biety Diana Winingder Dave Whelan* Doug Campbell Eleanor Blatell Elliott Adams Gerard Ramos Heather Knauss Jeff Henderson* Jerry Lenaz Joel Ordesky John Case* John Trovato* Johnson & Johnson* JD Lasica Josh Tate Kit Cooper KW Low Lauren Purple Linda Bushkoff Lindsey Ames Matt Macnaughton McKenzie Coco* Micki Krimmel* Nathan Winters Neelu Jain Nicky Perlman* Paula Gould Peter Radizeski Rob Moss* Stephanie Schneider Tim Soslow* Tony Adam William Giltner ** As of end of day today, I have $2682 in donations which is 35% of my goal, not bad in two weeks!**
All names marked with an asterisk are for donation of $100 or more. That means they'll be receiving a postcard from me while I'm in the Philippines, watch those mailboxes!! And of course, all donations of ANY amount receive my special SXSW custom mix on Mixable.net - which rocks. Really it does.
Read more ...
Kiss and Make Up
Women's Philanthropy Institute's Newest Council Member!
My Women's Equality Party Vote Is Dedicated To…
Road To 50
You're Invited! ASPCA Young Friends Benefit
... and more posts from the archives