Take 5: Newsletters I Love
December 8th, 2010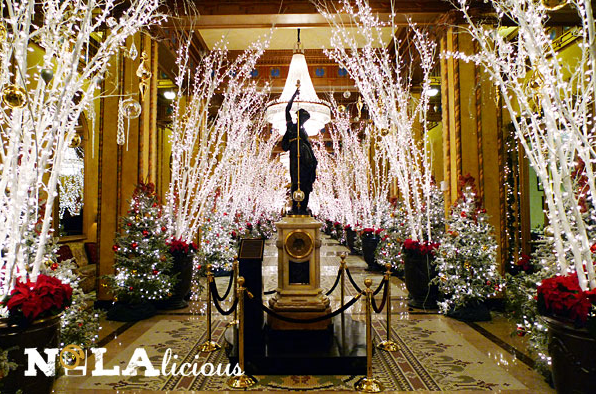 Roosevelt Hotel, New Orleans. Click here to visit NOLAlicious and download this image for your computer, iPhone or iPad.
I like information small and bite-sized and I know most people feel the same. With so much information out there nowadays how are we to find the good stuff? I'm taking a page from Rachael Ray's Take 5 Ingredients to give you a series I'm calling "Take 5" but instead of recipes (baby steps people, baby steps) it's going to include five examples of websites, newsletters, nonprofits, places, people, things (you get the point right lovlies?) that I think rock and get IT right.
This does two things. One, let's face it, I'm not called "ever-observant" for nothing. I'm always consuming information and it brings me great joy to share what I find. Second, I can't write posts on each of these things individually - or I could but it would just about break me since there is so much great information to share. So in my quest for stronger and more cohesive content to bring you I'm starting with a topic that I happen to know a lot about. Email newsletters. I get more than the average bear and sorting through them I'm looking for information that tells me something, provides more information about that topic and is designed well (which can be a very simple design, don't confuse simplicity for lacking in style). I'll write more at another juncture about what I've learned makes a good newsletter, a topic I learned an intense and exhastive amount about this past year running NOLAlicious but until then, let's start simple. ** MY 5 FAVORITE (AND BTW FREE) EMAIL NEWSLETTERS:**
1. Startup Digest - Self-designated members of the "email mafia" this newsletter calls itself "the insider's guide to the startup world." It is curated by city and provides the best in startup events, what you need to read and jobs at top startups in your city. I subscribe to three editions; New Orleans, New York and Pittsburgh - I could easily find more of interest but these three are a good swatch of what is going on in those cities. Their lists are rapidly growing, they host a pancake breakfast in different markets around the country to meet subscribers and have an awesome blog sharing tips about enewsletters. All around win.
Well there you have it. A "Take 5" look at email newsletters in my inbox. Are these new to you? Are you going to sign up for them? What are some of your favorite newsletters? Leave a comment and I'll look to include feedback I get into an upcoming "Take 5."
Read more ...
Kiss and Make Up
Women's Philanthropy Institute's Newest Council Member!
My Women's Equality Party Vote Is Dedicated To…
Road To 50
You're Invited! ASPCA Young Friends Benefit
... and more posts from the archives