Show Me The Green Light At The Grammys
February 17th, 2011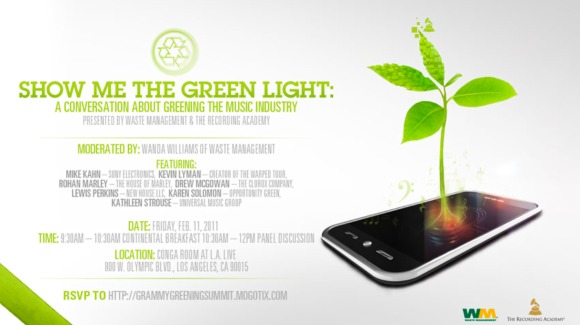 I wanted to share a recent project I worked on that I'm really proud of with an awesome client, The Grammy's! Many award shows are just about that ONE night. The Grammy's have made an effort the past two years to showcase events leading up to The Grammys that are relevant to those in the music community. This year, I worked with SocialPeople on digital strategy and blogger outreach to promote an invite-only event called **Show Me The Green Light: A Conversation About Greening The Music Industry. **
Between spending five years in LA (lord I miss that place), working and heavily volunteering in the green space, I had a huge list of names of friends, contacts and peers I wanted to invite to the event. I would have attended myself but I had a previous commitment to be in New Orleans last weekend and hard as I try, I just can't be in two places at once!
I was thrilled to see so many blogs posts, tweets and status updates about the event. I am really excited when my digital work comes together with my passion for sustainability..and music!
Here's an excerpt from the official press release:
The Recording Academy will partner with Waste Management — the official recycling partner of The Academy and 53rd Annual GRAMMY Awards — to present Show Me The Green Light: A Conversation About Greening The Music Industry as part of GRAMMY Week. The event will focus on the incorporation of a reduce, reuse and recycle philosophy and its emerging presence in an ever-changing industrial climate.
At the celebration of The Recording Academy's 50 years as the most recognizable brand in music in 2008 — the GRAMMY Awards — the organization set a goal for the next 50 years to have a positive cultural and social impact, with a focus on its environmental impact.
This year The Academy is working to balance its carbon footprint during the production of the 53rd Annual GRAMMY Awards at Staples Center in Los Angeles For example, we have been balancing our carbon footprint during the production of the GRAMMY Awards at the Staples Center in Los Angeles through the purchase of solar and wind power, and investing in sustainable energy initiatives through the Bonneville Environmental Foundation, an entrepreneurial nonprofit that creates and markets innovative solutions to energy and water issues.
Waste Management — the official recycling partner of The Recording Academy and 53rd Annual GRAMMY Awards — has strengthened The Academy's green initiatives by providing recycling receptacles at the GRAMMY Celebration, The Academy's official after-party, which will divert an average of 6 tons of waste from landfills. Additionally, the Natural Resources Defense Council has provided consultation to determine the best greening practices for The Academy, both during the annual GRAMMY Awards and throughout the year.
Made out of recycled plastic water bottles, the GRAMMY red carpet has lived a second, third and fourth life over the course of the last few years. As a result, The Academy has diverted thousands of bottles from landfills (where they would have lived lesser lives, never having touched the soles of music elites).
Read more ...
Kiss and Make Up
Women's Philanthropy Institute's Newest Council Member!
My Women's Equality Party Vote Is Dedicated To…
Road To 50
You're Invited! ASPCA Young Friends Benefit
... and more posts from the archives