Shady Side Academy's 2010 Cum Laude Society Induction
April 29th, 2010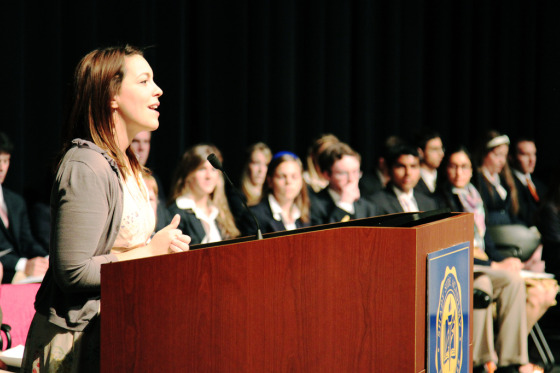 Last week I had the esteemed pleasure of being asked to give the address during my alma mater, Shady Side Academy's cum laude induction. As a 1997 graduate of the Academy, I appreciate deeply the wonderfully rigorous academic environment the school provided me and the many lifelong friends that I have from my years there.
During Homecoming weekend last fall, I was given an award, the Paul R. Pigman prize. An award for a young alumni who has demonstrated excellence in citizenship. The head of the school enjoyed my acceptance speech and asked me to come back to talk to the entire Senior School (9-12), plus faculty and parents during the cum laude (high honor) ceremony which inducts the top scholars in the senior class to the society.
Having family and friends in the audience of about 700 especially warmed my heart. But what really is amazing to me is how far I've come! I never would have dreamed sitting where those students sat that I would be the one at the podium addressing them. Nor, would I ever had imagined (dreamed yes! imagined no!) the accomplishments that I could reflect on while talking to them about cause-filled living, the art of giving back and why those pieces are so important to incorporate into their lives now and forever.
Parents and students came up to me afterward to tell me how much they enjoyed and were moved by my words. It was one of the most exhilarating and truly humbling experiences of my life. I LOVE talking to students about philanthropy and making it easy and tangible for both those who are already convinced but also for those who are skeptical or haven't found their way towards helping others.
I truly believe education is at the core of all we do, and the main driver towards leaving the world a bit better than we found it. If you're interested in having me come speak to YOUR school, university or community group, please contact me at sloane@thecausemopolitan.com.
My most sincere thanks to everyone at Shady Side Academy and in particular Jamie Brush from the alumni office who helped orchestrate the entire event.
Shady Side Academy is also on Twitter! Sign of the times!
The full slideshow of photos is above, with special thanks to Taylor Davidson for being my official event photographer.
Read more ...
Kiss and Make Up
Women's Philanthropy Institute's Newest Council Member!
My Women's Equality Party Vote Is Dedicated To…
Road To 50
You're Invited! ASPCA Young Friends Benefit
... and more posts from the archives