March 12th, 2010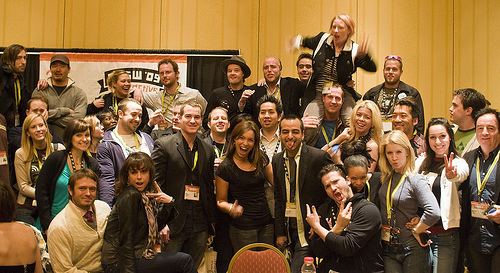 Well friends, SXSW is here! It's hard to believe a year has gone by since the last one. Before I move forward talking about all the goodness and goodies in store for this year, I thought I would first highlight my posts from last year's SXSW. You know, reflecting back before I move forward. Here we go.
SXSW Core Conversation: How LA Has Built A Sucessful Tech Community
Los Angeles has become a hub for tech startups with new ones popping up every day. Relationships are being formed and VCs are paying attention. Universities are showcasing developer opportunities unique to the city. So how did this happen? Welcome to networking 2.0. From Lunch 2.0 to Interactive Community Coalitions, BarCamp to Twiistup, LA is a great case study of how to build a successful tech community in your city. Join the organizers of the city's most popular networking events for tips, advice, the how to's and what-not-to-do's to make your city's community pop.
Life just doesn't really get much better than those 9 days in Austin each year when your mind is blown, your heart is full and your feet ache from exploration.
The Cause-Filled Life: A Socialbrite Interview
Five Tips on How to Rawk SXSW Music
3) PROXIMITY. Proximity from one venue to the next is HUGE. Next year I'd like to think I'll scoot out to Scoot Inn, Continental Club, Playboy Party, Fader Fort…but the truth is, I can't guarantee that. I'm not going to sacrifice hours to get to a party too far away from the main strip. Even La Zona Rosa becomes a trek by the last day. The pedi-cabs are awesome and if my friends had bikes we could roll that way too. Be aware of where each place is you want to go. Some days I created an almost circle going from one place to the next.
Music Monday: The SXSW Edition
And then shortly thereafter…
Related Posts: Joining the Social Media Revolution Giving Back on Your Birthday: The Doug Campbell Interview 5 Things: My Notes on the Twitter Roadmap
Read more ...
Kiss and Make Up
Women's Philanthropy Institute's Newest Council Member!
My Women's Equality Party Vote Is Dedicated To…
Road To 50
You're Invited! ASPCA Young Friends Benefit
... and more posts from the archives