Pretty Pretty Postcard #4
August 19th, 2009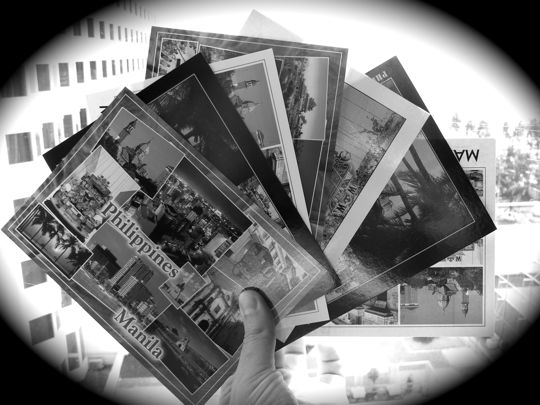 Round #4 of postcards are on their way!
I sent 7 in the first round, 10 in the second, 8 in the third and now 7 more. 32 TOTAL POSTCARDS. That's a lot of postcards!!!
I'm thrilled to report though that all my "official" ones are complete, and a few family ones thrown in this round too. 32 people donated $100 or more to my fellowship and I hope you've been enjoying my postcards coming to you with stories about the Borrowers I'm meeting here, my reflections on microfinance, sharing as much as I can in a small space.
Hey, hang onto those, you never know they might be worth something someday!
A reminder…Anyone who made a donation of $100 or more to my Kiva Fellowship Fund gets one! So will the following seven people please keep an eye out for your postcards:
Grace Winters and family (hi Chaya!), Wecht Family, Weiner Family, Rattner Family, Trey Shelton, Chris Gammill, Rafiq Manji and Ronan Reodica.
Thank you again to everyone who assisted with my journey to come here to the Philippines. I know it's coming to an end - the actual physicality of being here - but these experiences will stay with me always. Plus I have so many more pictures and videos to share with everyone that I never got to put up here - I hope that's ok and you continue to enjoy my posts about my Kiva Fellowship (even after it's over)!
Yours in cause, Sloane
Read more ...
Kiss and Make Up
Women's Philanthropy Institute's Newest Council Member!
My Women's Equality Party Vote Is Dedicated To…
Road To 50
You're Invited! ASPCA Young Friends Benefit
... and more posts from the archives