July 14th, 2009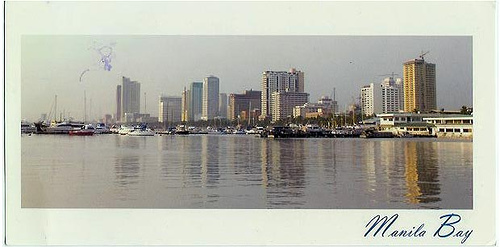 Yes! It's begun! There are 30 official people (a few more who went above and beyond are hopefully going to be added to that list after I get through these) who are receiving postcards from me here in the Philippines.
You remember, right? Anyone who made a donation of $100 or more to my Kiva Fellowship Fund gets one! So will the following seven people please keep an eye out for your postcards:
Mike Macadaan, Steve Banfield, Paige Craig, Barbara Mistick, William and Georgiana Knaus, KW Low and Robby Moss.
As a SPECIAL BONUS (and hat trick to Marc Vermut and Andy Sternberg for the idea and Gerard Ramos for the execution), these postcards will have an interactive quality to them. I'm uploading pictures of your postcards and maybe a sentence or two from them, and you can upload a picture of you when you've received it or add any of the text you want.
All of that to come later this week. In the meantime, thank you again to everyone who assisted with my journey to come here to the Philippines. I hope you're enjoying my updates, much more to come!
Read more ...
Kiss and Make Up
Women's Philanthropy Institute's Newest Council Member!
My Women's Equality Party Vote Is Dedicated To…
Road To 50
You're Invited! ASPCA Young Friends Benefit
... and more posts from the archives