July 14th, 2009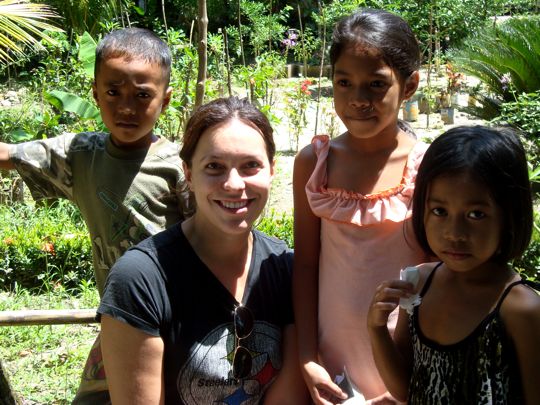 I can't believe it. I've been in the Philippines for just over a month. Where did the time go?
I have been reflecting on my time here in the Philippines, with Kiva, with ASHI and am really proud of the work I've done so far, my work ethic, my approach to accomplishing my goals and overall "taking in of the experience." There have been some serious challenges (The Lemon Incident and the lack of AirCon at times leading to sweat-induced restless sleep and tired mornings). I've never lived in poverty-stricken areas before, I mean LIVE in them and not just visit for the day. For that matter, I haven't had homestay experiences for a long time and so even staying in areas considered "middle-class" could be challenging for some travelers.
I know a lot of the Kiva Fellows have an apartment or one place they stay for the majority of their placement. It just makes sense that for me I'm constantly on the go-go-go and so not in one place for very long.
Is it exhausting? Yes. Yes, it is.
But it's how the staff of my MFI live, going from one place to the next and I enjoy so much getting out and meeting the Borrowers in different villages and it just requires A. LOT. OF. TRAVEL.
Any regrets? Things I'd like to improve upon for the next month?
I'd like to travel more on the weekends. My first two weekends were spent working, the next one traveling back to Manila and then there and only this last one did I get away to Baguio City. Even that was a Friday last-minute decision where it was lunch Friday and I looked online for airfares and didn't see anything that cheap so jumped on a 7-hour bus to Baguio City. I'm just so tired by Friday and so busy during the week that I don't even think about the weekend until it's almost too late to make plans.
I had an email exchange with my Kiva Coordinator about the non-stop pace here at ASHI and he said, wisely, _"Don't burn out. Take some time to yourself. This is your experience too." _
"I know," I said, "But it's hard." Well ain't that the truth. How often do we look one way down a street and say "I want to be there." And for one reason or another we end up down another.
I'm here to work. But I'm also here to experience the Philippines and I have to make a priority by like Wednesday to think about the weekend and decide where to go, what to see, where I want to be. In this I'm doing good. I'm headed to Cebu the last weekend of July, Bohol the weekend before or after that and I have a few other weekends to play with.
As for work and ASHI. Keep doing what I'm doing. I have to accept that I can't share every story I hear, so many are heartbreaking, amazing, eye-opening. All I can do is take some time every day to blog, write, take pictures, video, and share with you as much as I can.
With that, off I go.
Read more ...
Kiss and Make Up
Women's Philanthropy Institute's Newest Council Member!
My Women's Equality Party Vote Is Dedicated To…
Road To 50
You're Invited! ASPCA Young Friends Benefit
... and more posts from the archives