July 17th, 2009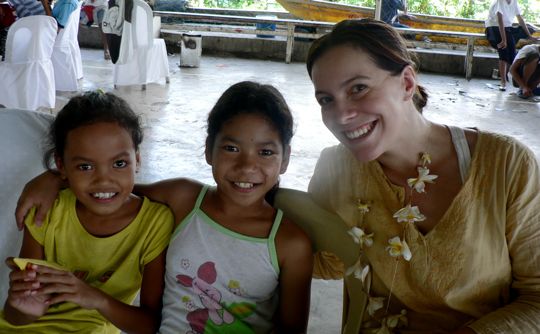 Recently, I've had the distinct pleasure and honor to be asked to do a few interviews. These have been featured on TriplePundit, BakitWhy, Twirlit, Ruzuku and there are two more in the works.
I had quite a bit of travel the other day and was thinking about the interviews and this opportunity; I was traveling from the Talim Island branch by tricycle to the dock where I rode a commuter boat for 1 hour to the mainland. Took another tricycle about 1 mile to the jeepney stop and then the jeepney for 30 minutes to Morong where I was meeting up with ASHI staff, gathering the rest of my things I had left there a few days ago and then traveling with them all via a air-con van to a small resort about 45 minutes away where there wass a big cultural celebration in honor of 15 Dutch students who have been here for the past two weeks learning about microfinance.
I left Talim at 9AM and arrived at the resort we're staying in tonight at 2pm. While traveling, I came to a realization I really wanted to share. I realized one of the reasons I'm enjoying the interviews so much is because I like people asking specific questions of me and having to reflect upon my answers. Since I'm here, and you're well, there – I'm answering the questions via email. And I spend a painstaking amount of time on my responses. I am having an amazing time here in the Philippines and I don't feel an acute language barrier every day, but I do feel it in the sense that I don't have the frequency of the in-depth of conversations that I'm used to in America. With my close friends we are always going between silly fits of laughter and talks about the meaning of life and our place in the world. Answering questions for an interview makes me feel like I'm having one of those conversations and it gives me pause to really stop and think and reflect upon my intentions.
Furthermore, I surprise myself sometimes by my answers especially the motivations for what I do or how I feel I got to where I am. I am writing my answers and then I go back and read them and think, "Wow, that's a really powerful statement, I can't believe it came from me."
I see strength in my words that can be hard to remember and feel every day. Seeing as how I have an innate curiosity about the world, I'm always asking everyone else all these questions, I guess I realized how much I miss people asking the hard, serious and necessary questions of me.
Outside of traditionally schooling, university and employee reviews, many of us don't often have the chance to be asked pointed questions about our lives and I truly feel like I'm learning so much about myself by being asked to share pieces of myself with you.
Last, and I couldn't be more sincere in saying this, I get messages regularly now – that bring tears to my eyes with a pride I didn't know I had and a prevailing sense of the good virtues of humanity that I can barely describe. Messages via email, Facebook, Twitter, even notes on my Facebook wall from people saying they got up and did something and gave back in some way today because they were inspired by something I wrote or posted or did. I don't know if this sounds strange to you reading this, but that still amazes me every time. It never gets old or trite. Every message makes the hairs on the back of my neck stand up and my chest puff out a little like a proud rooster and I'm just overwhelmed by emotion.
That makes me feel like this whole thing is bigger than me. It's bigger than what I expected to the point where I don't have expectations anymore, I just get up every day and push, push, push all the way to the end and wake up to do it again the next day.
So that's why I'm doing these interviews. I just thought you should know.
Read more ...
Kiss and Make Up
Women's Philanthropy Institute's Newest Council Member!
My Women's Equality Party Vote Is Dedicated To…
Road To 50
You're Invited! ASPCA Young Friends Benefit
... and more posts from the archives