Museum Hack Launches - A New York Must
September 10th, 2013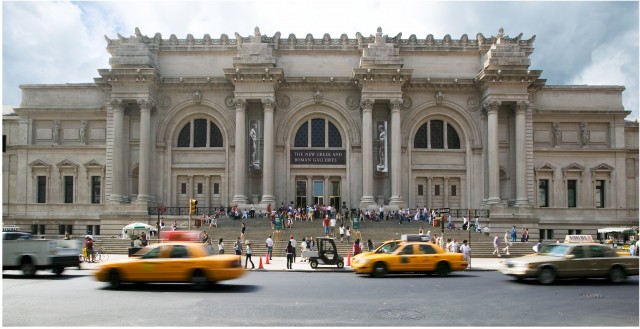 Obsessed. Unique. Interesting. Subversive. These are some of the adjectives used to describe the tours from Museum Hack (formerly known as Hack The Met). Museum Hack takes you on a tour of the Metropolitan Museum of Art in way you've never experienced before.
Nick Gray, who has become a friend, started not as a company but as a fun birthday party idea. He took his friends to the museum and showed them his favorite items in the massive collection. Why? Because his favorite place in the whole world is the museum. And? His friends loved it. So he did it again. More people loved it. I heard about it around that time, went solo one Friday night and was blown away. It wasn't a tour. It was a BLAST. It was fun and witty and informative and the opposite of any tour I could think of having heard or or having been on. It grew and grew and grew organically. Nick's one-offs were such a hit that he left his job and started this company.
If you start with a passion, good things will come.
For my readers, I'm excited to share $5 off a tour. When you go to book a reservation, add the code "gonick" Here's more about Museum Hack:
This is not a boring art history lecture. What we offer is a fun, group-oriented VIP tour experience. You will be entertained… and learn a bit along the way. We strive to offer a brand new view of the Met, one that you wouldn't get by simply visiting the museum on your own. Not affiliated or endorsed by the Metropolitan Museum of Art.
The Metropolitan Museum of Art can be intimidating. It sprawls over 2.3 million square feet and 13 acres of Central Park. Filled with some of the world's greatest masterpieces, the Met is hard to navigate even for the seasoned New York City resident.So we hacked it. Our highlights tour will show you the very best, the most famous, the wild and the sexy… all in about two hours.
So what are you waiting for, goooooo museum! (If you go, you'll pick up on that reference).
Read more ...
Kiss and Make Up
Women's Philanthropy Institute's Newest Council Member!
My Women's Equality Party Vote Is Dedicated To…
Road To 50
You're Invited! ASPCA Young Friends Benefit
... and more posts from the archives