Microsoft Employees Raised $96 Million in 2010 For Charity
February 2nd, 2011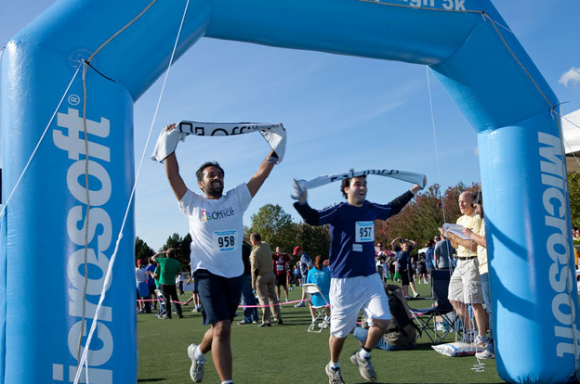 I've been reading a lot of reports and releases this past week about how corportations performed in 2010 with employee giving. Employee giving, and company matching, is growing every year and it's a crucial component for many nonprofit development and fundraising departments. Many people call company match programs "free money" in that all you have to do is tell your company that you made a donation and they'll match it up to a certain percentage or in some cases to 100%.
One company I wanted to highlight in particular is Microsoft. I have friends and colleagues who work there (and also worked with Microsoft Windows Phone 7 myself this past summer) and I've always been very impressed by how they talk about the commitment to giving at all levels within the company. That shows in their latest release that employees raised $96 million during 2010 for charity, more than any other year in the company's history and a 9.2% increase over 2009. A few statistics:
62.5 percent of U.S. employees participated in the company's Giving Campaign

34,887 U.S. employees gave either time or money (or both) in 2010

U.S. employees volunteered 353,541 hours in 2010

More than 16,000 organizations received donations of time or money from Microsoft's U.S. employees

Giving was up $8.1 million over 2009 despite economically challenging times
Source: Microsoft
Microsoft's commitment to corporate social responsibility is so strong and a part of the DNA of the company. The co-chairs of the 2010 Giving campaign posted a blog post on the Microsoft site discussing what made 2010's campaign a success.
A few other highlights:
Employees raised more than $2.76 million for the United Way of King County. That money is helping their new Parent-Child Home Program, which ensures that children from low income, struggling families enter school with an equal chance.

A smaller organization, Summit Assistant Dogs, received about $118,000 from employees – roughly one-third of their operating budget – enabling them to hire an additional full-time employee and train more dogs for people with disabilities.

Donations made to Jolkona, a nonprofit organization providing effective ways to channel small-scale gifts to high-impact projects around the world, include enough money to feed 550 children in Uganda for two weeks each, educate 30 girls in Afghanistan, provide 12 artificial limbs in Bangladesh, and save 31 children from diarrhea in India.
What an incredible year for giving at Microsoft. I'm actively looking for other examples of corporate giving and also examples of what makes a strong CSR campaign. If you have any links to share, please leave them in the comments!
Read more ...
Kiss and Make Up
Women's Philanthropy Institute's Newest Council Member!
My Women's Equality Party Vote Is Dedicated To…
Road To 50
You're Invited! ASPCA Young Friends Benefit
... and more posts from the archives