Malaria No More Launches The Power Of One
September 25th, 2013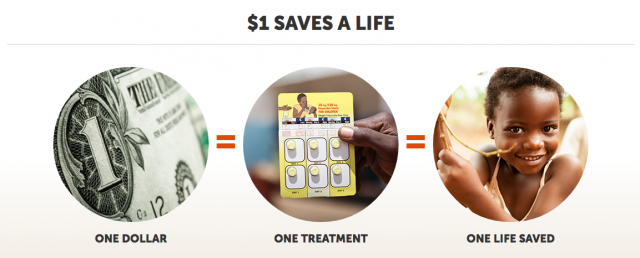 Malaria is one of the top three child killers on the planet. But it doesn't have to be. Millions have joined the fight to drastically reduce malaria in our lifetime in the hope of eradicating it completely. It is a realistic goal and one that I have proudly supported since my own 2009 malaria campaign fundraiser (Cause It's My Birthday) where I co-raised $20,000 to distribute malaria nets in Ghana to orphanages, schools and hospitals.
It might seem crazy to imagine but a child dies EVERY MINUTE from Malaria. Malaria claims 660,000 lives per year—90% of those in Africa. Imagine, more than 1400 kids lose their lives to a mosquito bite every day. In fact, half the world is at risk. There were an estimated 219 million malaria cases worldwide in 2010, mostly pregnant women and children. Malaria keeps more kinds of our school than any other disease and accounts for half of preventable absenteeism in African schools, causing up to 10 million missed days each year. In all, malaria costs Africa an estimated $12 billion a year in lost productivity.
But you can make a difference. Malaria No More is on the forefront of this battle. This week they launched a new campaign called Power Of One.
There you can make a donation, sign up to receive more information and track where you donation goes. The campaign makes it incredibly simple to save a life. With every dollar you donate, a life-saving test and malaria treatment will help a child in Africa.
Give now to save a safe. Every dollar you donate will provide a life-saving test and malaria treatment for a child in Zambia. After donating, you'll be able to track your impact and that of your friends. I've made my donation, please join me.
Read more ...
Kiss and Make Up
Women's Philanthropy Institute's Newest Council Member!
My Women's Equality Party Vote Is Dedicated To…
Road To 50
You're Invited! ASPCA Young Friends Benefit
... and more posts from the archives