Make A List, Check It Twice. Then Give!
December 16th, 2013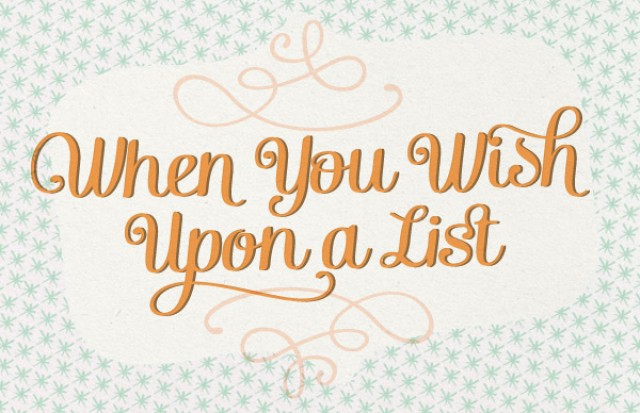 Giving Tuesday might be over but the spirit of what it set out to accomplish doesn't have to be. In its second year, Giving Tuesday was a day to support causes you care about. It was set this year for November 3rd, after Black Friday and Cyber Monday. I've been a social media ambassador both years was really excited to see so much momentum.
I've been thinking about giving a lot recently - shocking I know! But thinking about how to really get everyone excited to give. No matter what income level. No matter where you live. No matter what period. That was a big reason I published The Giving Manifesto. To encourage a fun side of giving back.
Don't worry if you don't consider yourself a philanthropist, supporting causes you believe in is as simple as giving what you can. No labels. No judgement. Just give.
I wanted to make this really simple and really fun. So below are three ways to think about giving today. No delay, get giving!
1. Get in the spirit! Make a list of nonprofits you'd like to support.
Where have you given in the past? Sit and make a quick list if you don't have one already. For example, here are seven categories from my list:
Personal history — This includes my alma maters (elementary school & high school in Pittsburgh, college in Vermont).
Places I've lived — Previous cities I lived in and nonprofits I still support there like Heal The Bay in Los Angeles and Roots of Music and St. Bernard Project in New Orleans.
My current city — I live in NYC so I look to organizations that support the community I'm in: ASPCA, Robin Hood, Step Up Women's Network and Stoked.
My favorite cultural activities — I'm a big culture person and drive more by experiences than things so I think it's important to support those places that give me so much joy throughout the year like This American Life, NPR, New York Public Library, The Metropolitan Museum of Art and The Museum of Modern Art.
Global giving — These include charities around the world I support in my key areas of empowering women and girls through financial literacy, education and maternal health like Kiva, She's The First, The Adventure Project, Resolve Network and Glory Reborn.
Supporting friends — I added a new category two years ago because I felt like I was increasingly giving to causes that are important but are not my main priority but I wanted to support friends who were running races and raising money or had other fundraisers.
Emergency Giving — Hurricane Sandy, Typhoon Haiyan…there are no shortage of places around the world where you can make a donation to support recover efforts.
2. How much can you give?
I determine roughly how much I'm going to give for the year ahead and how much I'm going to give to each category and sub-category. I have a spreadsheet I keep in a Google Doc — it's really easy, I add to it every time I make a donation. How you think about this piece is entirely up to you. However like most things in life, I believe it's easier to track them.
Do you have an idea in mind how much you wanted to give in 2013 or looking ahead to 2014? Maybe you can give $1,000, or one months rent, or 1% of your annual take home pay or 10%. It's up to you. Think of a stretch goal and how much you've given so far this year and then…
3. Go have fun and donate…
I give to my core nonprofits every year but I also choose a few new nonprofits to give to. I might give them $5, $10 or $25 to get started. That gets me on their email list and I can see how they talk to me, how they interact. That's important to me.
What have I not mentioned here? Volunteering and in-kind giving are also really important. I'm saving those for a follow up post. I also didn't get into looking up nonprofits on watchdog sites like Charity Navigator and Guidestar. Don't get me wrong, that is very important! I just believe a lot in starting simple and think it can be hard and a deterrent to go around looking up every organization you want to support. I go a lot on people - if I know someone and trust them and they support a nonprofit I'm willing to give it a try. To me, it's like eating in a restaurant. The first time do you look up their sanitation reports or do you go off word of mouth? Now if you are going to have a party there or host a big event, yes look up all the details. But if you're just getting started be ok with some of your picks being big hits and maybe some of them being misses.
I hope this is inspiring! Where are you excited to give to this year?
*A version of this post originally appeared on Medium.
Read more ...
Kiss and Make Up
Women's Philanthropy Institute's Newest Council Member!
My Women's Equality Party Vote Is Dedicated To…
Road To 50
You're Invited! ASPCA Young Friends Benefit
... and more posts from the archives