Make A Donation Page Is Live!
May 11th, 2009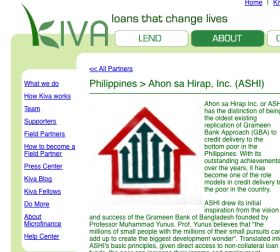 A few changes to the site I wanted to mention. I've added a "Make A Donation" heading to the top of the site to help raise awareness about my fundraising needs for my upcoming Kiva Fellowship.
On that page, I'll be updating my list of donors, any in-kind or corporate sponsors I have and donations that come in outside of ChipIn, because I have received some cash and checks that won't be in that total.
If you'd like to help spread the word, here is the URL shortener I'm using for that page: http://bit.ly/hwgc6
If you wanted to send out a tweet or post to your facebook page, it could look something like this:
Quick, easy way to give back today! Donate to @sloane's kiva fellowship fund in the Philippines this summer. http://bit.ly/hwgc6
Thanks to all of YOU - I'm 20% to my goal! Between Twitter, Facebook, LinkedIn, MySpace, Tumblr and all the other social media tools I use, I have over 6,000 connections. A good portion of those are duplicated from one network to another, but think about it - if everyone donated just $10, I know I could reach my goal.
Please consider supporting me today. I need a total of $7,500 and I know I can do it. I will be working tirelessly in the Philippines for Kiva and my MFI, ASHI in Quezon City.
Thank you for your support!
Sloane
Read more ...
Kiss and Make Up
Women's Philanthropy Institute's Newest Council Member!
My Women's Equality Party Vote Is Dedicated To…
Road To 50
You're Invited! ASPCA Young Friends Benefit
... and more posts from the archives