Look Ma! I Have a 504 Area Code!
July 23rd, 2009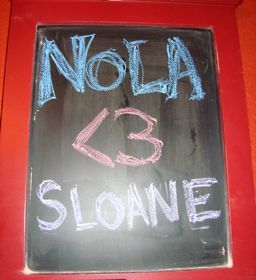 In something so truly miraculous that I barely have the words. I have a major announcement to make. I now have a 504 area code.
What in the ****?
Yes (504).
(504) 298-5935 to be exact. Go ahead try it (I'm probably not online when you're reading this to pick up but leave me a message)!
Thank you magicJack!
You saw right. In something that feel very much like The Secret running me over with a car, I swear I dreamt and wished and prayed for a 504 number. It's New Orleans silly, the place to whom I wrote My Love Letter to New Orleans, this past Spring and just took my breathe away and stole my heart and beckons my return this fall.
But I thought how in the world could I get a 504 number when I know I won't be giving up my 310 area code? Santa Monica love and I worked hard for five years in Los Angeles to deserve that phone number.
Then the miraculous little thing called technology happened. Or in this case macgicJack. A friend of mine who moved here to Manila to start a virtual assistant company (yes this one) introduced it to me this past weekend. I think I'm down with the tech, but it blew me away. The quality is amazing. And free! Can't really beat that. I had to have one. Here's how it works.
1) You buy a MagicJack for $40 (slightly more internationally). 2) You set up any area code and prefix you want. This means I could choose not only New Orleans (504) but a Garden District prefix (298). 3) Plug it into your USB, quick and easy set up and you're done.
Free calls to/from anywhere in the world to the U.S. and Canada. I called my mom on her cell phone and my grandparents on their home phone. A magic trick or an illusion? Only Arrested Development would know, but this is magic kids. Or really good technology bursting at the seams to give the phone companies a good kick in the you-know-what.
I bought a cheap landphone for 345 Pesos (that's like $7) and I plugged it into my MagicJack and I'm good to go. I can call you, you can call me.
For my friend with the outsourcing company it works great. His call center was calling from Skype but the numbers were showing up a 00009 or something. Now, when you hire an assistant from his company, he can assign them an area code from where you are. Bunker Hill in downtown LA - 213 no problem, live in Burlington, Vermont - 802 BOOM.
For me, most of my family and close friends don't Skype. I tried and tried to set up before I left but it didn't work. This means I hadn't talked to my family in 6 weeks, sigh. I bought my MagicJack and just had CLEAR AS DAY conversations with all of them.
When the guy who sells them here in Manila was setting me up, I could choose ANY area code I wanted. I didn't even pause. 504 please.
Him: Oh 504. New Orleans nice. I happened to go to Tulane for a semester. It's a special place, huh? You from there?

Me: Haha, of course you did. Not exactly from there, I'm from Pittsburgh, Pennsylvania. Maybe someday though. It holds a special place in my heart. Can't wait to get back this fall. Hey think I can get a prefix for where I want to live in the Garden District?

Him: No problem, you can get anywhere you want.

"Where are you?" My family asked when I called them from my 504 number. "Manila," I responded. "Come again?" They said.
So if you want to call and say hi, hey just dial 504.298.5935.
How do you like them apples. Me with a 504.
Now just to find that tall drink of cool water 504 of my dreams to make the picture complete (right Tiffany)?
Read more ...
Kiss and Make Up
Women's Philanthropy Institute's Newest Council Member!
My Women's Equality Party Vote Is Dedicated To…
Road To 50
You're Invited! ASPCA Young Friends Benefit
... and more posts from the archives