Join Me TONIGHT 7pm EST: The 21st Century Classroom
April 29th, 2010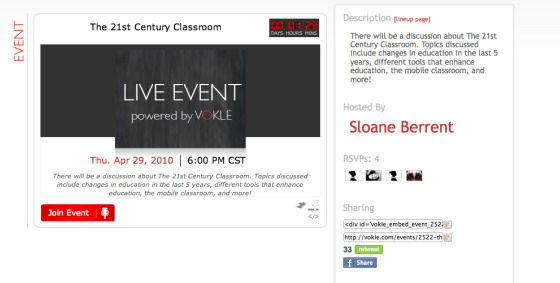 Join me tonight at 7pm EST for online discussion about education and technology, called The 21st Century Classroom. I'm really excited to be moderating this conversation!
Log in and participate in the conversation at 7pm!
Joining me in the chat tonight are: Adelma Stanford, Social Media Marketing Strategist, Promethean USA: @prometheanUSA Karen Bantuveris, CEO, VolunteerSpot: @volunteerspot Kevin Prentiss, Founder, Red Rover: @kprentiss
What to get involved in a future chat about this subject? Let me know!
Suggested topic question I'm going to cover:
Changes in education over the past 5-10 years
How technology is being used in the classroom
Different tools that enhance education including: Xbox, Promethean (interactive whiteboards), iPad
Social Media in the classroom - how it's used. What is appropriate and what is not.
The virtual classroom - What does it look like?
Where do they see education going in the next 5 or 10 years
What are your questions? Join the chat tonight and contribute to the conversation!
Help spread the word! Here are two sample tweets:
Join the discussion on The 21st Century Classroom Thurs night (4.29) at 7pm EST bit.ly/21stcc #edtech #21stcc

@Sloane @PrometheanUSA @volunteerspot @kprentiss will be talking about the future of #edtech on 4.29 7pm EST http://bit.ly/21stcc #21stcc
Follow along using the hashtag's #edtech and #21stcc
I've been active with nonprofits all my life and spent the last 10 years working in development and fundraising. I've worked in education and supported nonprofits focused on education. I believe that education is a true economic driver and can help raise people up from poverty and open doors previously closed. Combining technology and education and making is accessible to all is a true game-changer!
Hope to see you tonight in the chat!
Read more ...
Kiss and Make Up
Women's Philanthropy Institute's Newest Council Member!
My Women's Equality Party Vote Is Dedicated To…
Road To 50
You're Invited! ASPCA Young Friends Benefit
... and more posts from the archives