Info, Info, Got Your Information Here!
September 1st, 2009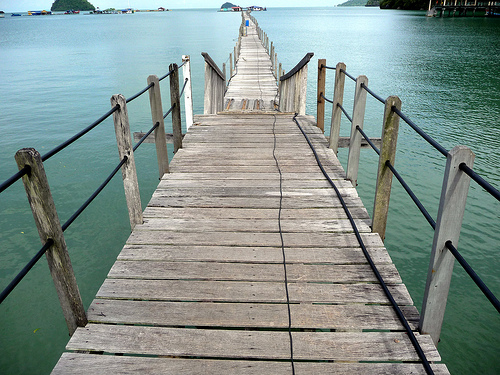 We all need answers sometimes. Sometimes we ask someone, sometimes we look it up online. But let's be honest, there is more to looking something up than Google. I usually base my searches around the topic I'm trying to find the answer for. I do some research, open a few tabs on the ole browser and set my brain to "information gathering" mode. I think there is something to be said for getting out in the world and posing questions, but if you need to find information online, here are the five places I go most frequently for answers.
Wikipedia - Wikipedia is the master of all things reference. It's a good overview for a topic. I've found I use Wikipedia more lately for facts and historical information. It doesn't have all the context, but I tend to start here and then branch out. There other projects are amazing sources of information too. I don't have time to get lost on Wikipedia these days, what with limited internet and limited time online, but I miss just searching for random facts and figures based on today's history or items in the news. Other ares include: Commons, Wikinews, Wiktionary, Wikiquote, Wikibooks, Wikisource, Wikispecies, Wikiversity, Meta-Wiki

Merriam Webster. Merriam Webster has a "Word of the Day" email you can get sent to you. There is also a translation section, thesaurus, reference section, pretty much you name it.
I love seeing what new words are added to the dictionary every year. This year did you know there were close to 100 additions including: acai, carbon footprint, flash mob, frenemy, green-collar, locavore, reggaeton, staycation, waterboarding, and webisode.
Yahoo! Answers - How big is the Eiffel Tower? Do bars in Germany play NHL games? Should I be a physical therapist or a dental hygenist? I need help folding fitted bedding sheets, suggestions?
These are real questions from Yahoo! Answers. And apparently burning in the minds of Yahoo readers somewhere. This site is a little more whimsical, silly - but somehow things you actually might want to know about or use in your next PubQuiz tournament.
Answers.com - They call themselves the "World's Greatest Encyclodictionalmanacapedia." So for what it's worth, find all the information you could possibly desire. Like Wikipedia, it lists "Today's History," "Today's Birthdays," "Today in the News." This can make for great small talk, elevator banter, happy hour approaches later in the day. A little "Did you know that…" goes a long way for keeping a conversation flowing.

Sparknotes Test prep. No fear Shakespeare. Study guides. They tag themselves as having smarter, better and faster answers. This could work in any number of real life applications, not just for students. Dropping knowledge on Foucault at the future in-laws for Thanksgiving could be quite impressive, or Utilitarianism, or Kant. I always loved educational environments, even if not the actual test and grading part. This site is like the best of both worlds.
I'd love to hear what sites you go to for information regularly. I always am keeping lists of things around that I use, visit on the web, share with friends and so I wanted to start sharing them here with you too. So feedback welcomed!
(A different version of this post was originally published on LAist by moi.)
Read more ...
Kiss and Make Up
Women's Philanthropy Institute's Newest Council Member!
My Women's Equality Party Vote Is Dedicated To…
Road To 50
You're Invited! ASPCA Young Friends Benefit
... and more posts from the archives