How You Can Help After Typhoon Haiyan In The Philippines
November 19th, 2013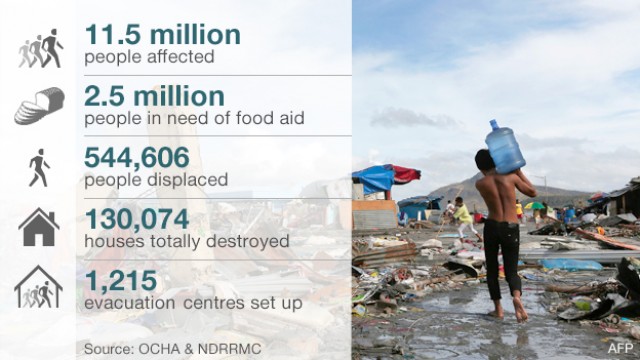 In the aftermath of the typhoon that the hit the Philippines last week, international relief agencies are ramping up donation appeals worldwide. Typhoon Haiyan—possibly the strongest storm in recorded history slammed the Philippines. An estimated 11.8 million people are affected, including 4.7 million children. Thousands are dead and millions more need emergency assistance. As many of you know, I'm an ardent supporter and lover of the Philippines, Filipinos and their beautiful country. I lived there for three months in 2009 as a Kiva Fellow and traveled extensively throughout the country to local communities. I saw many things that a tourist would never see including being invited into huts and thatched-roof homes and went to villages way off the beaten path. The Filipino people are a resilient and resourceful people, they help each other, they are kind and very family-oriented. This tragic storm is so hard to watch in part because I know that for many of us, the concept of a storm stronger than Hurricane Katrina is hard to fathom. Impossible. And for many, the Philippines is a far off land that we can't see, smell and touch the way we can with disasters here at home. Still, it's important to give.
I've seen many people ask online and ask me directly where they can give so the donations go directly to people who need them. Here is my advice, give right now to the big organizations that are set up for disaster and emergency response. They have the infrastructure to take those funds and start using them for shelter kits, water, food, shelter, aid workers, etc all right now. I've listed a group below of international aid organizations that have strong reputations and many that have a multi-decade presence in the Philippines. To me that says that they understand this country and have relationships and people on the ground to have begun their work immediately in the aftermath of the Hurricane.
Are there small organizations that also need support? Yes of course. Are there people directly making asks online to help support their family and friends. Yes of course. I'm going to look for some of those giving opportunities as well but wanted to start here. All disasters are a long road to recovery, there will be multiple opportunities to give. Start with this list. Every little bit counts.
International Rescue Committee
Are there other organizations you support? Please share them in the comments and I'll be sure to include them in a Typhoon Haiyan follow up post.
Read more ...
Kiss and Make Up
Women's Philanthropy Institute's Newest Council Member!
My Women's Equality Party Vote Is Dedicated To…
Road To 50
You're Invited! ASPCA Young Friends Benefit
... and more posts from the archives