Our Honeymoon at a Dude Ranch in Colorado
November 7th, 2012

What a hard decision! Taylor and I looked at a map of the whole world…THE WHOLE WORLD…and were faced with making a huge decision.
Where to go on our honeymoon.
Now of course, as two very experienced travelers, we had a few prerequisites that surfaced as we talked through every nook, cranny and crevice, or in this case every city, state and country. Our final decision? Black Mountain Ranch, a working dude and cattle ranch in the heart of Colorado. How in the world did we narrow down the whole world to one of most amazing places in the world? Keep reading!
1) We wanted a location in the United States. There are so many amazing things to see in the US and we both felt like while we had been all of the globe, there was more to see within our own country. We had just under a week after our wedding and we wanted to plan a bigger honeymoon for around the holidays so from a geographic perspective is also made sense not to go too far. Some might argue Pittsburgh to Colorado is far, but play along with me here. For us, it was just a quick plane ride away…plus a four hour drive from the Denver airport.
2) We wanted minimal decisions. Sometimes you go somewhere, like Paris, and you want to do a lot of research in advance, make reservations, wander around and get lost and have a map handy in case you need it. Those trip are great! I love to travel like that. But I also like to go someplace and have a "Club Med" version of a vacation, except for the Club Med part, I don't like anything that feels "canned" or "stripped of cultural relevance." If we're in Colorado, we want to feel like we're in Colorado! Back to minimal decisions. This is bliss to me: wake up, meals are pretty much pre-determined and the main thing you have to decide is which activity you are going to do that day. Given that we were planning a wedding, plus working, plus just having so much on our plates, we knew we wouldn't have time to properly research anywhere and wanted to be able to pack, go somewhere, unpack and figure out the rest when we got there.
3) We wanted lot of outdoor activities. Yes, often vacations are about laying in the sun, doing a whole lot of nothing and eating lots of good food. I love doing that! For about 2 days. After that, I get a little restless. So does Taylor. Also I knew after the wedding weekend we would be mentally pretty tired and physically worn out, but we are really active people. If we were going somewhere for 6 days, we wanted it to be somewhere with lots of outdoor activities. Let the record show, the good part is non-negotiable.
4) We wanted to do something we'd never done before. We could have gone someplace tropical and gone snorkeling. Sure. That would have been really sweet. But we wanted an adventure! Something out of the box that would be way different. A dude ranch fits that criterion to a T. Horses, fishing, rafting, canoeing, shooting guns, playing pool, horseshoes, sleeping out under the stars, line dancing, learning to rope cattle, drinking beer from the bottle at 3pm…I mean if that all doesn't sound like heaven, I don't know what does. Best of all, I'd only done about 4 of those things ever before and of those 4, one of them I hadn't tried in 10+ years. I mean it's not every day you can have your OWN HORSE for a week and do pretty much whatever you want that includes cowboy boots. There isn't one "coolest part" but if I had to pick, I would definitely say living as a cowgirl (outfit and all) for the week is up there.
Bonus Points: Referral from a friend. Let's face it. A good friend telling you someplace or something or somewhere is amazing carries much more weight than not having any social context at all. That is why we all read reviews but it's also why so much happens via word of mouth marketing. Our good friend Andrew Hyde had lived at Black Mountain Ranch last summer. He blogged about it and he included it in a chapter in his book, [This Book Is About Travel](This Book is About Travel: A Modern Manual - 15 Countries With 15 Things
).
With all of these things in mind, where in the world would you go?
I'm re-posting my review on Trip Advisor and Yelp below. If you're interested in going to Black Mountain Ranch next summer, just let them know (honeymoon or otherwise). I'm happy to make an intro too and/or give you more information, hit me up! You can also email the Ranch directly at howdy@blackmtnranch.com.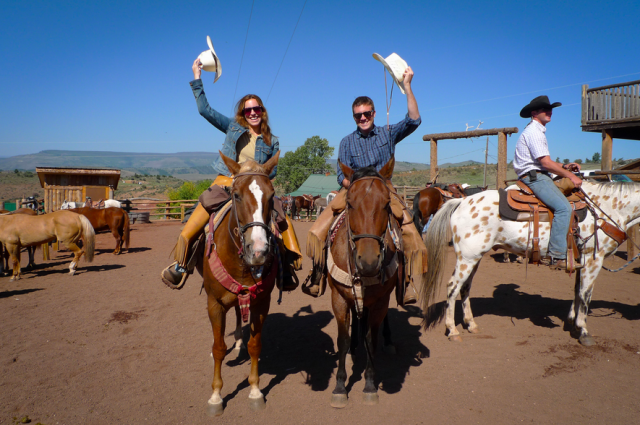 What an amazing vacation! My (new) husband and I chose Black Mountain Ranch for our honeymoon. It might seem a bit crazy to spend your honeymoon on a Dude Ranch but it was exactly what we were looking for and I can't recommend it enough!
During our week on the Ranch we met families and independent travelers - the Ranch can handle any group of travelers, all you have to do is bring your adventurous spirit.
The staff are so warm and truly lovely. They are great with kids, great with adults who are kids at heart and great with adjusting city folks to life on a working cattle ranch.
The setting could not be more stunning. Every day you're surrounded by horses and landscapes as far as the eye can see. Your daily schedule is really up to you! Trail riding, arena riding, a trip to the shooting range, learning to rope, playing horseshoes, shooting pool, take a swim in the pool, go rafting, fishing, canoeing…see what I mean!
One night dinner is served at the lake, you ride there and back. One night everyone sleeps out at Pack Camp, and you ride back the next day. You pick the difficulty of your ride (easy, medium, hard) and once you arrive at Pack Camp your tent is set up and hot food is waiting for you. Plus campfire songs and the most beautiful night sky and stars you could ever imagine.
The food is so delicious with lots of options for your whole family. Breakfast and lunch are buffet-style and most days you order breakfast at dinner from a few options. Plus endless cookies on hand fresh-baked daily.
I love vacations like this - limited decisions! All you have to do is pick a few things every day and the rest is taken care of.
Your wrangler is your guide for the week but anyone on the property will help you with questions and everyone has skills they're really great at and willing to share their tips and tricks from practicing roping to learning to Texas 2-step in the saloon in the evenings. Kids included!
Your horse is your best friend for the week. You'll be shocked at how much more comfortable you feel on a hose by the end of the week. This goes for both experienced and non-experienced riders.
Not having a cell phone was a blessing and we didn't miss it one bit. What a treat to really be on vacation and not be attached to your phone. There is limited wifi, but we didn't use it and didn't miss that either. There are of course phones on the property and ways to check back in with work/family if you have to.
Towards the end of the week, I mentioned to some of the families that I was surprised not to see one single kid meltdown or anyone not smiling all the time - the parents all agreed that since there were endless options and activities the kids were always occupied and that left everyone happy and tired at the end of the day. Same goes for adults!
As for us, it was a really romantic trip. We had tons of time to spend alone in the wilderness but also time to get to know some really cool families and some amazing staff, cowboys, cowgirls and wranglers.
Thank you to the May Family at Black Mountain Ranch for over 20 years of service. It was absolutely a vacation we'll never forget and will be telling friends about for years and years to come.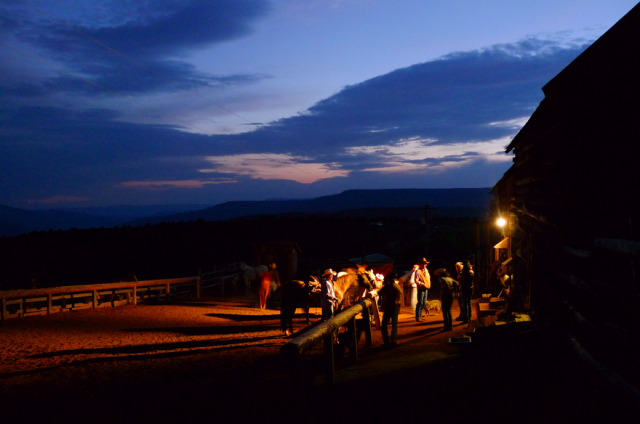 Read more ...
Kiss and Make Up
Women's Philanthropy Institute's Newest Council Member!
My Women's Equality Party Vote Is Dedicated To…
Road To 50
You're Invited! ASPCA Young Friends Benefit
... and more posts from the archives