Help St. Bernard Project Commemorate the 5th Anniversary of Hurricane Katrina
July 28th, 2010
This post was originally published as an email to supporters of the St. Bernard Project. For more information you can visit their website, or follow them on Twitter (@stbernardproj) or make a donation. SBP was named in May as the first beneficiary of The Giving Project and you can also find them in the list of New Orleans nonprofits I support in my blogroll.
---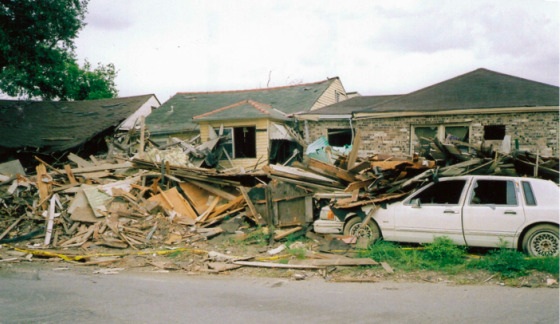 Dear Friends of SBP,
August 29, 2010 marks the 5th anniversary of Hurricane Katrina and the incredible devastation that still plagues the greater New Orleans area.  August 29, 2010, however, also marks the beginning of the largest and most enduring charitable response in our country's history. At the St. Bernard Project, we are grateful for the help of 24,000+ volunteers and thousands of funders who have enabled SBP to rebuild homes for more than 300 hardworking, home-owning families. We appreciate our partners and supporters who have helped us open and successfully operate the only free mental health clinic in the area. And, we are enthusiastic about creating jobs for veterans in residential construction. In this letter, we ask for your help to make sure that the 5th Anniversary is commemorated by action and meaningful efforts to solve solvable problems.
While much progress has been made, for too many clients, the 5th anniversary means just another summer waiting to move back into their storm-devastated home. Today, despite our best efforts, nearly 1,000 families own homes but are still living in FEMA trailers because they can not afford to rebuild. Another 6,000+ families who own homes cannot afford to rebuild.  Mental health problems plague the community and post-Katrina rental prices have increased to the point of being unaffordable.
Just as hope and progress were gaining momentum (The New Orleans Saints won the Superbowl, we elected a new mayor, Treme became a national favorite) another threat emerged and inches closer to the Gulf shores — and the precious marshes that protect St. Bernard and New Orleans — with every passing day. As the Deep Water Horizon spill unleashes vast amounts of oil into the Gulf, residents who already lost their homes now face the loss of their livelihood and lifestyles.
Fortunately, there are solutions and you can help.  In fact, SBP and our clients need your help.  During the month of August, please consider joining SBP's five-fold efforts in New Orleans by matching with your own five-fold efforts from home. To make an immediate and lasting impact on people's lives in the New Orleans area, you can:
Host a fundraiser to benefit SBP. Click here for some ideas and support materials.

Vote for SBP to win $250,000 for our Oil Spill Response in the Pepsi Refresh challenge: Voting starts Aug 2 and we will send a reminder and link on Aug 1. You can vote once a day for 30 days.
3. Make a donation or text "NOLA" to 50555 to donate $5
Sign up to come volunteer with SBP this fall/winter

Use Facebook, Twitter, MySpace, LinkedIn and blogs to friends, fans and followers to vote for SBP's Oil Spill Response in the Pepsi Refresh Challenge.
Thanks so much for being part of the SBP team!  To be sure, there is lots of work left to do, but as we have shown, the problems are solvable.
To plan an event, or to learn more about SBP's efforts, please email your SBP contact, or please email Amanda Catalani at amanda.catalani@stbernardproject.org. Five steps from each of us can ensure that five  years from now, we won't be wishing that we had done more.
Read more ...
Kiss and Make Up
Women's Philanthropy Institute's Newest Council Member!
My Women's Equality Party Vote Is Dedicated To…
Road To 50
You're Invited! ASPCA Young Friends Benefit
... and more posts from the archives