Come Hear Me Speak @Net2NO Tonight
April 7th, 2009

Officially I'm speaking tonight at the monthly NetSquared New Orleans meeting (@Net2No on Twitter) on community. I'm recapping the Core Conversation I did with Andrew Warner at SXSW. I'll also be discussing how the lessons we've learned and continue to learn in building the Los Angeles tech community can be directly applied to the burgeoning and growing scene here in New Orleans.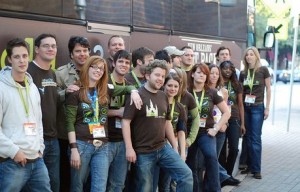 Unofficially, it's also "look what the cat dragged in" show-and-tell of how insanely effective and compelling the New Orleans tech crowd was in Austin to re-confirm my decision to come to New Orleans and spend some time here.
I'm thrilled and honored to have been asked to talk on both of those points tonight and if you're in New Orleans, please come out and join us!
Details Date: Tuesday, April 7, 2009 Time: 6-8pm (6-7 Networking, 7-8 Presentations) Location: Bridge Lounge, 1201 Magazine St., New Orleans, LA 70114 (In the back room)
See you tonight!
Read more ...
Kiss and Make Up
Women's Philanthropy Institute's Newest Council Member!
My Women's Equality Party Vote Is Dedicated To…
Road To 50
You're Invited! ASPCA Young Friends Benefit
... and more posts from the archives