Check-in for Checkups with Clorox and Children's Health Fund (CHF)
August 4th, 2011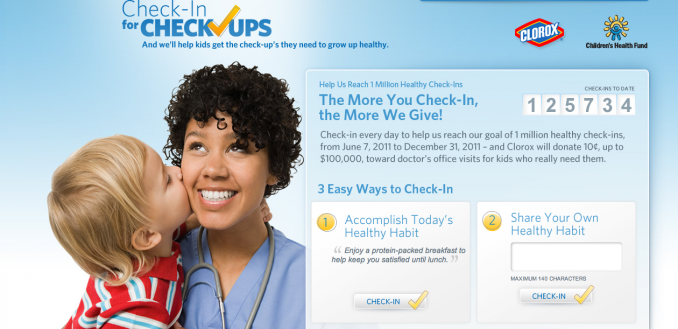 I first met the amazing folks from Children's Health Fund last sumer when I spoke on a panel about Social Media for Social Good at Fundraising Day NY.
I was incredibly moved by their mission and their stories of success. I helped get the word out about a new mobile clinic in New Orleans last summer and have had them in my sights ever since. I was so honored to have been asked to partner with them for a summer campaign with Clorox to do some good.
Through a new social media-driven campaign, Clorox and CHF are working to encourage healthy habits and help provide health care to disadvantaged children. This is the second year CHF and Clorox are partnering and this year's program is called Check-in for Checkups. You might have been my tweets or posts this summer or heard me talk about in person. I'm THAT passionate about this campaign. I've met the good folks from Clorox and their PR agency who helped put this together and it's the real deal cause marketing campaign that included a multi-year cash donation and then this extra money donated through the help of YOU and people everywhere who share their summer healthy habits online.
For each check-in that you do, Clorox will donate 10 cents, up to $100,000, to CHF to help support their goal of providing half a million health care visits to children in need across the country. What's amazing is that now when you check-in with your healthy habit, you are not only helping yourself, but also the lives of others. The more you check-in, the more you give back to disadvantaged children across the country.
This issue is so incredibly important since one in five children in the U.S. live in poverty and millions of children do not have access to regular checkups and timely health care visits when sick. As a result, simple childhood health problems, like ear infections and toothaches, can lead to lifelong health issues.
CHF's mobile medical clinics go into underserved communities to bring ongoing health care to children at schools, community centers, homeless shelters and other places in the heart of the community. In addition to pediatric primary care providers, the CHF network consists of other dedicated health care professionals including dentists, mental health providers and nutritionists.
They are currently at 125,000+ checkins but are looking for 1 million! It's super easy to get involved. You can either head over to their microsite and enter what your check-in is or send a tweet with the hashtag #checkinforcheckups.
Some of the healthy habits I've used this summer include walking to work every day, drinking 8 glasses of water a day, going to yoga each week, making a commitment to healthier eating habits - yours can be anything - but the best part of sharing those healthy habits is not only making them part of your daily life but helping others in the process.
Get in the habit of your summer healthy habit by checking in every day and spread the word! Join me in helping to support equal access to healthcare for children everywhere.
Read more ...
Kiss and Make Up
Women's Philanthropy Institute's Newest Council Member!
My Women's Equality Party Vote Is Dedicated To…
Road To 50
You're Invited! ASPCA Young Friends Benefit
... and more posts from the archives