Celebrating NOLAlicious, Celebrating Change
January 11th, 2011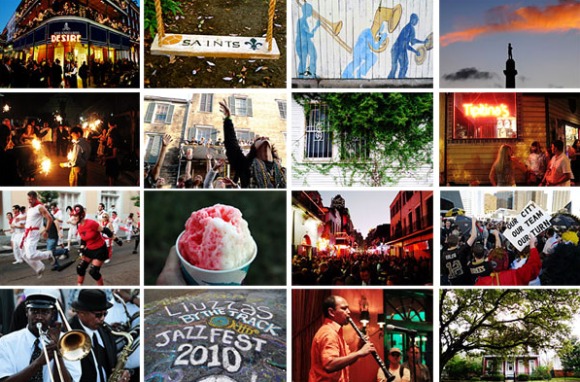 There are quite a few changes happening this week that I'm excited to share. First, today marks the one year anniversary of NOLAlicious. It's been an amazing year and there is no better way to talk about it than to share the introduction from this week's newsletter:
NOLAlicious #53, January 11, 2011

Celebrating an Anniversary and a Goodbye.

Dear NOLAlicious readers,

Today marks the one year anniversary of the collaborative project between friends that became known as NOLAlicious. Today is the 53rd consecutive weekly NOLAlicious newsletter (with 11 additional special issues scattered throughout). We've shared with you over 35 desktop wallpaper images of classic New Orleans sights (mostly taken by our own in-house professional photographer Taylor) and produced a 2011 calendar from many of these images. We've featured more than 265 activities to do or places to eat around New Orleans and provided information about over 135 full-time jobs based in New Orleans. We have sent over 1,000 tweets, shared over 500 photos, and have close to 1,400 friends on Facebook. We hope you know, without a shadow of a doubt, how much we have enjoyed sharing a sliver of life in New Orleans with you every week.

Today also marks the final weekly NOLAlicious. When NOLAlicious was created last year, we were new to living in New Orleans and looking to find a curated list of things to do outside of the traditional media sources. There wasn't anything like NOLAlicious (at least that we could find). Lending our skills, ideas and the little time we had to give, the concept for NOLAlicious was born. And what a year it was! The highlights are many including the Saints winning the Super Bowl, riding in Mardi Gras Krewes and bouncing through a muddy (and beautiful) JazzFest. It also included the election of a new mayor, the Gulf Coast oil spill and the 5-year anniversary of Hurricane Katrina. It included all of the magic that is New Orleans, from food and music and culture to sharing it with neighbors and new partners-in-crime along the way. 2010 was about making lifelong friends and memories that we will hold close to our hearts forever.

Throughout the year, the NOLAlicious family grew to include Elise, Kat, Martin and Emily, who each shaped NOLAlicious in their own way. Without them, we would have been lost.

Our lesson? Support those wacky ideas you hatch over coffee with friends. Use your passions to create something you can share with others. Be consistent. Share your passions and love. That's why, instead of our regular PICKS this week, we've each described what New Orleans means to us, our perfect New Orleans day, and what we're most looking forward to this upcoming year.

We like the idea of NOLAlicious having bookends, a beginning and an end. Of course, all of our past newsletters, featured picks and photos will stay online. On occasion, you might even hear from us when something comes up that is too good not to share. But now it's your turn. We featured the New Orleans we found and loved in 2010, but our love for New Orleans lives on, stronger and deeper because you showed NOLAlicious what you loved about New Orleans, and why it was so important to you. Thank you. Now get out there and show New Orleans that same love you showed us.

Always yours,

Carl, Sloane, Taylor and the NOLAlicious Team
All of us wrote paragraphs about New Orleans and I want to share mine. Here you go:
New Orleans is so full of perfect moments that my heart aches thinking about having to choose just a few. I remember the spring days when the temperature started to rise and the condensation gathered on the windows of my French Quarter apartment and I would open the french doors to hear the clopping of the horses, the sounds of the buskers and the smell of the garden flowers from surrounding courtyards. I remember everything. Bike rides through the Marigny exploring every block and every nook in wonder. Long walks around Audobon Park and deep debates over what snoball flavors to try next with friends. Dinners so delicious with company so divine that we didn't notice 4 hours had gone by. Laughing so hard at dive bars on hidden Uptown streets that my sides hurt. Life in New Orleans is turning up the dial on what it means to be alive. It's brighter, it's louder, it's more decadent and yet it can fill one with pure childlike joy at the possibilities and wonders that lie around every street corner. It's the definition of family, of generations coming together to celebrate culture and a place they love. From our family to yours, thank you for everything.
For the rest read the entire NOLAlicious 53 newsletter.
Change comes and goes in life and with NOLAlicious we loved doing it so much and wanted to end in a place where it was at the top. The future of the project is unknown, we do have some interesting conversations going on and ideas about where it can go. But for the time being we really wanted to celebrate it for what it is. Period.
This also marks a change in where I'm calling my primary residence. I have called New Orleans home since December 2009 and as of this week that is changing to New York City. I am so excited to continue to visit New Orleans as much as I can (hopefully once every other month at least including next up the weekend of Feb 11th) and I know that not a day will go by that I won't think of New Orleans or my friends there who I miss already. That said, challenges and opportunities presented themselves here in New York and I'm excited to see what the future holds.
New York has always been on my list of places to live. It's where my dad grew up. It's the first trip I remember taking on a plane to visit. It's close to my family in Pittsburgh and for the first time in 7 years I'll be living in the same timezone as my family (a huge accomplishment trust me)!
Personally, I have friends here I've know my whole life and professionally this is one of the centers of digital strategy and social innovation and many of my clients for 2011 are based here.
Decisions to change and move and uproot are never easy. I can't thank enough my support network of friends and family who have coached and guided me, not only through this transition, but through all of my big life decisions.
Signing off from NYC, Sloane
Read more ...
Kiss and Make Up
Women's Philanthropy Institute's Newest Council Member!
My Women's Equality Party Vote Is Dedicated To…
Road To 50
You're Invited! ASPCA Young Friends Benefit
... and more posts from the archives